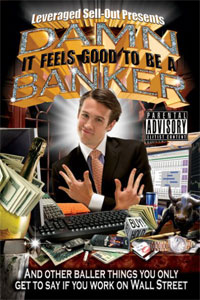 Eric Konigsberg has a lovely piece in today's New York Times about the 26-year-old author of Damn It Feels Good to Be a Banker, a recently published satirical handbook to the now-endangered species of young financiers who used to frolic around this city. Author Amit Chatwani tells Mr. Konigsberg that he and his publisher, Hyperion, expected the book to sell better, but that was before all of the circumstances. "I'm kind of hoping that people will look at it as a sort of historical document, a parody of a world that existed until basically a moment after it came out," Mr. Chatwani says.
His book, which began as a blog called leveragedsellout.com that was drawing more than 200,000 hits a day when Mr. Chatwani got the deal with Hyperion, was published in August.
Now, "instead of assuming the mantle of a populist hero," Mr. Konigsberg writes:
Mr. Chatwani these days consoles and counsels his friends through these uncertain times. 'A bunch of them are applying to business school,' he said. 'One guy says that people at his firm are so panicked they just watch TV in the office all day.'
One of the most trying aspects for them, Mr. Chatwani explained, was the loss of 'perceived prestige' with women. 'A lot of my dude friends when they meet a girl in a bar, they've stopped talking for once about what they do,' he said. 'If you tell a girl you work at an investment bank, that gets you a sympathetic pat on the back. That's not the response you're looking for.'
Maybe next Mr. Konigsberg should write a "Remember the Neediest"-type series and profile Chris Tennant, the guy from Radar who put out the The Official Filthy Rich Handbook.