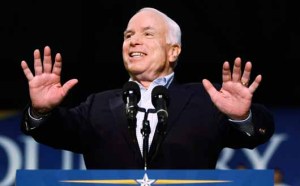 Before John McCain and his traveling press corps entered a packed hall in Concord, N.C., for a rally on the morning of Oct. 18, local members of Congress sought to rile up the crowd.
Then they had to calm it down.
First, Representative Patrick McHenry cheered what he called the "biggest crowd John McCain has gotten in North Carolina" and emphasized that this was a critical election with a stark choice between the candidates.
"It's like black and white," someone in the crowd at the Cabarrus Arena & Events Center yelled out, laughing. McHenry let the remark pass and finished his speech. He yielded the microphone to Representative Robin Hayes, who prefaced his comments by saying it was important to "make sure we don't say something stupid, make sure we don't say something we don't mean." Republicans, he reminded the crowd, were kind people. Plus, he added, the liberal media had shown itself eager to distort such remarks. With the crowd duly chastened and put on best behavior, he accused Obama of "inciting class warfare" and said that "liberals hate real Americans that work and achieve and believe in God."
As slipping poll numbers have forced McCain to spend time and money campaigning in states that Republicans traditionally win with ease, he is finding himself in front of crowds that represent the irreducible core of the party. McCain, whose candidacy was supposed to appeal broadly to independents and swing voters, now must depend on many Republican voters who were never enthusiastic about him to begin with.
Lots of the supporters turning up at rallies now find inspiration in the idea of a grand conspiracy, refusing to believe polls and media reports indicating that McCain is behind. And most seemed motivated, more than anything, by a fierce desire to thwart Obama's ascendancy to the presidency.
"We have to win the state of North Carolina and I'm counting on you to do it," McCain said at the North Carolina rally.
The attendees cheered, but in interviews, they also expressed concern.
"I think John McCain was a little lackadaisical, he let things slide," said Steve Overman, a 51-year-old restaurant owner from nearby Mount Pleasant who attended the Concord rally. "I'm very worried. I don't think Obama's ready to be president. Maybe in eight years. But now McCain's got to catch up. He has got to focus more on the economy—more on the things we're all concerned about here. I think the Ayers thing was a quick hit to get votes. I don't care about him. I just want him to instill confidence that he knows how to fix the economy."
In other instances, the enthusiasm the crowds exhibited for McCain seemed somewhat manufactured.
On Oct. 17, McCain stumped at the Florida International University, where a giant American flag hung over the stage like a canopy between two big blue banners, one reading "Florida" the other "Victory." The preferred chant was "Country First." Most everyone waved blue and red pompoms. Some cheerleaders stood on each other's shoulders.
A large portion of the crowd consisted of Cuban, Nicaraguan and Colombian Americans, and they cheered and waved signs in Spanish and English that read "Nicas Unidas" and "Nicas 4 McCain" and "Colombianos 4 McCain" and "Mac is Back" and "We Heart Cindy" (the heart was drawn red and Cindy was written in a feminine script). Other signs read "We Heart Mac," "McCain Heart USA" (both hearts were drawn but no script), "In John We Trust," "Straight Talk," "Jews for McCain," "Country First," and "Nurses for McCain." All the signs were written in the same thick red, blue or green brush strokes and on identical pieces of white oak tag. The campaign put them on seats before the crowd arrived.
"The volunteers make them and leave them before the people get here," Angel Reyes, a 19-year-old McCain supporter who had attended several campaign rallies, said after the event. He said the campaign had asked him and his friends to stand behind the candidate to bring down the median age of the crowd in the camera shot. "They were looking for young people and they weren't letting any old people stand behind him. It seemed kind of unfair."
Reyes was one of the last McCain supporters to leave on Friday morning.
Some McCain backers even left early.
"We're trying to avoid the crowd leaving," said Jim Miller, a 43-year-old attorney who attended the event with his family. "I've got to get back to work downtown."
"I have a class," said James Richardson, 32, another supporter from Miami.
During the rally, McCain made it clear that he needed the support of Floridians to have any hope of winning the election.
"There is no doubt whatsoever that we will win the state of Florida," he said, calling it a "must-win state."
He mostly stuck to economic policies, and his plan to buy up troubled mortgages. "This administration is not doing that," he said, arguing as part of his claim to bring the country "in a new direction" that he is "not George Bush."
He closed by casting himself as an underdog and rallied his supporters to "fight" and "stand up."
"We never quit," he said.
McCain's battle cry seemed so effective that his supporters in the crowd said they couldn't believe any of the public-opinion surveys that showed him trailing.
"I don't believe these polls," said America Blanca, a 44-year-old small business owner from Miami who wore a red dress and was visibly pumped up by the rally. "Not one of them. Because it's the kids answering the polls on the computers. Their parents are not home and they are answering and they will not be voting. I think if he is losing, it is only by a little spread. Very little." She held the tip of her pointer finger about two inches from the tip of her thumb.
Asked if her business made more than $250,000 a year, the cap under which Obama has proposed cutting taxes, she said it did. Told about Obama's proposal, she answered, "I don't give a shit. I will never vote for a black man."
A few minutes later, Eve Lyons, a 44-year-old wearing a McCain-Palin button on her jean jacket, also said she didn't believe the polls.
"The press is just too biased for Obama," said Lyons, an accountant from nearby South Hollywood. "They are dead set about getting Obama in the White House any way they can and so they have made up these polls. The only way John McCain loses this election is that we lose our faith."
Jerry Dale, a 68-year-old Vietnam veteran and attorney from Miami, acknowledged that the race was not unfolding as he had hoped.
"The battle is not going well," he said. "He is behind in the polls. He has to tell the American people who Obama is. I don't know who Obama is, except for being a powerful speaker, and so was Adolf Hitler, so was Fidel Castro. I'd like to see Obama debate Fidel Castro. It wouldn't be much of a debate because they'd be saying the same things."
For Dale, Obama was an untested man with dubious associations with Bill Ayers, Jeremiah Wright, Tony Rezko and Louis Farrakhan. "Gentleman John has to take off the gloves," he said.
Roland Mclean, a 63-year-old from Broward Country who wore a Bermuda shirt spotted with American flags, was taking matters into his own hands. As he walked out he shouted and snickered at the working reporters, who were sectioned off from the crowd by iron railings, for not doing their jobs and for letting Obama off the hook. Asked why McCain appeared to be losing, according to most polls, Mclean said, "A lot of people are drinking the Kool Aid. I think we're going to win."
He said that where he lived, in Broward County, "the only cars that I see with Obama signs on them are—you're going to think this is racist—but black people's cars. There are no Obama signs anywhere. Much less than all the Gore signs in 2000. And he lost Broward County." Asked why the polling in Florida seemed so lackluster for McCain, he said, "They never polled me!"
When everyone had left, university workers started cleaning up. On the seats, most of the homemade-style signs—"Estamos Unidos," "Straight Talk!" "Baptists for McCain" and "Colombianos con McCain," among others—had been left where they were found.