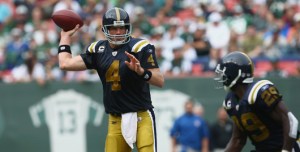 The first quarter of the Great Brett Favre Experiment drew to a close with team headed into a bye week at 2-2. And if, as head coach Eric Mangini maintains, the bye is reserved for unsparing honesty and brutal self-assessment, then this is the prefect time to offer some suggestions as the team readies itself for the remaining 12-game push.
Commit to a throw-first offense.
The wide-open attack on display during last week's 56-35 victory over the Arizona Cardinals is not merely the best way for the Jets to play; it's their only hope. Let's be plain: the Jets simply lack the personnel necessary to execute the plodding, ball-control offense prized by Mangini and offensive coordinator Brian Schottenheimer. That much ought to have been obvious on the first day of training camp, and if not by that point, then certainly by the time that Brett Favre was acquired. The notion that this team, led by the foremost quarterback of his generation and possessed of two high-quality receivers, would be best served by deferring to a patchwork offensive line and a 30-year-old journeyman running back who had rarely been better than average was unrealistic if not downright foolish.
Nevertheless, the team opened the year seemingly committed to the same brand of stodgy conservatism seen over the last two seasons. Unsurprisingly, it proved a resounding failure. The team had to hit rock bottom on Monday Night Football in San Diego before the coaching staff resolved to write a bigger part for the guy with 448 career touchdown passes. One week, 56 points, and six touchdown passes later, the Jets seemed to have hit their stride. But if the trend is to continue, Mangini and Schottenehimer must resign themselves to life in a Favrecentric universe. Yes, there will be ugly interceptions, and plenty of them. Get over it. What Favre brings to an offense far outweighs what he gives away. That's why the NFL's all-time interception leader is also its only three-time MVP.
Split carries between Thomas Jones and Leon Washington.
If Thomas Jones' late-career renaissance in Chicago entitled him to some indulgence following last year's disappointing debut in New York, then the honeymoon is just about over after a similarly uninspired start to 2008. Jones, who spent the first five years of his career on three different teams, now has as little big-play ability as any starting running back in the league. Astonishingly, he has not had a regular-season run longer than 36 yards in his last 853 carries. Add the reality that he brings little as a receiving threat out of the backfield and nothing as a goal-line runner, and it's difficult to understand why Jones continues to command the lion's share of the playing time at tailback.
Clearly, he scares no one and does nothing to keep pressure off the passing game. His backup, Leon Washington, is arguably the Jets' most explosive player. Last year, Washington averaged a gaudy five yards a carry behind the same porous offensive line that took the fall for Jones's lackluster 2007. The year before that, he averaged 4.3 yards a carry behind a line that was quite possibly worse than last year's iteration. In the worst case, he seems a safe bet to match Jones's production. In the best case, he would represent an appreciable upgrade and afford greater credibility to the Jets' play-action passing game.
Start the Bob Sutton Watch.
Lost amid the stirring 56-point outburst last Sunday was the reality that the Jets' seemingly insurmountable 34-point halftime lead was whittled to an uncomfortably narrow 13-point edge after defensive coordinator Bob Sutton's defense allowed 35 second-half points. And had Cardinals receiver Anquan Boldin not received the jarring hit that would cost Jets safety Eric Smith a one-game suspension and a $50,000 fine, the tally likely would have been 42 points. In a half. This, not one week removed from surrendering 48 points to the Chargers.
Clearly, allowing an average of more than 41 points in consecutive games is unacceptable for any team playing against any other teams, but when one considers the amount of talent on this defense, it becomes particularly appalling.
After spending about $60 million to acquire the likes of Kris Jenkins, Calvin Pace, and the utterly invisible Vernon Gholston, the Jets had to expect more than what they have seen thus far. The defensive line, anchored by Jenkins and veteran defensive end Shaun Ellis, is no worse than average overall. The linebacking corps, led by Pace second-year standout David Harris is probably a tick or two better than the league average. And although the secondary lacks a proven strong safety and an established second corner, it boasts two pro-bowl caliber players in young stars Darrelle Revis and Kerry Rhodes.
Last Sunday's defensive meltdown was ultimately washed away by the good cheer that invariably follows a much-needed win. But the Jets should remain mindful that not even Favre can consistently outscore a defense as bad as the one we saw over the first quarter of this season. Something must change, and unless the team shows a major improvement over the upcoming spate of games against the lowly Bengals, Raiders, and Chiefs, the Jets should strongly consider handing Sutton his walking papers. Eric Mangini served as secondary coach and defensive coordinator under Bill Belichick in New England and is doubtless capable of coaching this unit should a change become necessary.