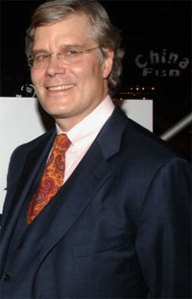 Portfolio's Matt Malone interviewed ex-Random House CEO Peter Olson last month and no one noticed! Mr. Olson, who was given a teaching position at the Harvard Business School after German media conglomerate Bertelsmann removed him from the top of their publishing empire earlier this year, sounds like he's pretty happy to be out of the game, or at least at peace with it. Most of what he says is pretty anodyne, except for when he tells Mr. Malone that the hardest lesson he has ever learned is "not being overly distracted by short-term goals or the demands of a corporate parent."
Who knows how much this Q&A was edited and rearranged, but the brevity of the remark makes it seem like he's only pretending to say something vague and banal, and is actually referring to something specific. Namely, his decision to fire Ann Godoff from Random House's flagship imprint in January 2003 for not meeting profit expectations.
The ouster of Ms. Godoff, whose taste in literary nonfiction and talent for publishing it is broadly regarded with admiration in the industry, inspired outrage in the publishing community which Mr. Olson dismissed in a devastating New York Times Magazine profile as the clucking of "snobs."
Five years later, Ms. Godoff is doing just fine running her own extremely successful imprint at Penguin. Maybe that's what's making Mr. Olson say these things about "short-term goals."
Thanks to Daniel Wagstaff at The Casual Optimist for noticing the interview. Also, if you want more Mr. Olson, this month's issue of Portfolio has you covered: in a little item about "chief executives with big broods" he is identified as a father of seven, and quoted as saying that "it's absolutely ­essential to find a balance between work and family."