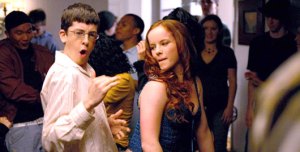 Imagine if Manhattan apartments belonged to people whose jeans were speckled by paint that they had actually been painting with, as opposed to people in, say, pre-speckled $250 Diesels. This week's quarterly market reports said the average sales price for Manhattan apartments dropped from $1.67 million to $1.48 million, so there's still a long way to go before sub-$800,000 lows from 2003 are matched, which means New York is still far from returning to any sort of gritty coolness.
On the plus side, some worthy (but well-compensated) comedy types just bought apartments here. Sarah Allentuch, a former assistant to Woody Allen, and her husband, Greg Mottola, who directed Superbad (and, better yet, some episodes of  Arrested Development), just got a $2.6 million, 1,773-square-foot apartment at the new One York condo.
According to the development's Web site, their two-bedroom apartment has a 31.5-foot-long living/dining room, a home office, a Sub-Zero wine cooler in the open kitchen and two fancy-sounding bathroom amenities listed as a "Zuma Whirlpool Air Tub" and "Duravit Caro Wall Mounted Toilet."
(Anyone with anything to do with the unjustly canceled Arrested Development deserves to spend the rest of their lives in whirlpools; one episode directed by Mr. Motolla, called "Storming the Castle," should be seen by anyone hoping to live a fully realized existence.)
The apartment deed closed in June, but wasn't filed in city records until this Monday.
Earlier this month, David Javerbaum, an executive producer and ex-head writer for The Daily Show, paid $3.65 million for an apartment at Yves, a new Chelsea development. According to the marketing materials, Yves bathrooms have "tubs," though further details could not be found. The deal was first reported by the Web site Cityfile.
mabelson@observer.com