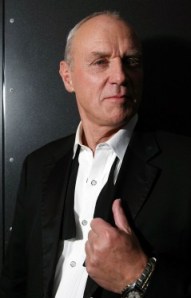 You might not know the name Alan Dale, but you certainly know the man. Perhaps you remember him as Caleb, the owner of The Newport Group and Kirsten's father on The O.C.; there's his work on 24, when he played Vice President to David Palmer during the second and third seasons; maybe you've seen him as Charles Widmore, the industrious baddie on Lost; he's been on Ugly Betty too, playing a publishing mogul. Not enough? How about The X-Files, ER, The Practice and The West Wing. Hell, this dude was even in Indiana Jones and the Kingdom of the Crystal Skull.
When we saw Mr. Dale walk up to Jeremy Piven on last night's excellent edition of Entourage (every episode should end with Radiohead's "Fake Plastic Trees"), it didn't even phase us. Of course the New Zealand born actor landed yet another guest-starring role on yet another water cooler favorite, this time playing the fictional owner of Warner Brothers. With his square jaw and seemingly no nonsense attitude, Mr. Dale is the go-to actor when casting directors need a conservative-looking authoritarian. When he comes onto the screen, audiences immediately take him seriously, since he radiates rich, smug and serious. He demands your respect.
It's not even that he's a particularly good actor. He's fine enough. But by bringing a no frills, no gimmicks style to his roles, Mr. Dale manages to give a consistent performance in every show he appears on. Clearly though, he has the best agent in town. Seriously. Remember the game "Six Degrees of Kevin Bacon"? With all the people Alan Dale has appeared with, it probably won't take more than three moves to connect every single working actor in Hollywood to him. Go ahead, try it at home.
While you're doing that, we'll fantasize about what's next. A trip to The Office as the owner of Dunder-Mifflin? Maybe he can show up on 30 Rock as some corporate raider? No, we've got it… how about the third season of Mad Men? Come on, can't you see Mr. Dale playing a part in the Sterling-Cooper merger? We can…