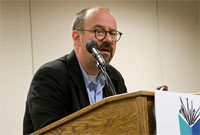 Two things curious about Dwight Garner's new gig as daily book critic at The New York Times: One is that he had some not very nice things to say about his new colleagues back in 1996 when he worked at Salon, and two is his 1998 profile of Michiko Kakutani, where he quoted one book critic after another on how she didn't deserve her Pulitzer Prize. James Wolcott is in there quipping poisonously that while there is a pattern of Times critics going "downhill" after winning their Pulitzer, "We'll probably have no such luck with Michiko," and Jonathan Yardley making fun of her for reviewing lots of short books.
The 1996 piece takes the form of an interview, wherein Mr. Garner asks himself 10 questions about the state of book reviewing. Number nine is "Should there be term limits for daily book critics?"
Mr. Garner's answer:
Four years maximum, given the track record of the critics at the New York Times and most other dailies. Daily critics, with the Washington Post's Jonathan Yardley as a possible exception, have the half-life of snow tires. They calcify quickly. These days you can count on Michiko Kakutani to swat at anything (Phillip Roth, Nicholson Baker) that — sexually, morally — puts some sweat on her brow. And reading the Times' other critics, Christopher Lehmann-Haupt and Richard Bernstein, it almost doesn't matter whether they're writing pro or con; the tone doesn't vary. (Their earnest, straight-on, eight-paragraphs-of-plot-summary prose is the equivalent of what used to be called, in football, "three yards and a cloud of dust.") No one's regularly throwing sparks. Anywhere.
Ten years on, Mr. Garner denounced the piece in an e-mail to Media Mob.
"I wrote that article for Salon more than a decade ago, and its chest-thumping, know-it-all tone makes me cringe today," he wrote. "It's a piece that clings to me on Google like a vampire bat. Michiko Kakutani is an enormously talented literary critic, and I'm honored to be writing on the same culture pages. We don't agree about every book, but it would be very boring if we did."
He added: "Also, it was around the same time I was friendly with Bill Ayers."