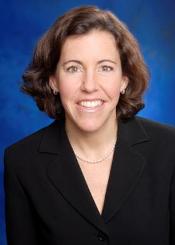 Could the, until recently, ever-skyrocketing housing market in New York City have blinded Wall Street to the turmoil already afflicting the rest of the nation?
Barbara Denham, chief economic for real estate brokerage Eastern Consolidated, explores that angle in the essay below. It's no excuse, of course, but it might help explain how so many ostensibly intelligent people resisted the evidence accumulating in the rest of the country that real estate assets were drastically over-valued.
Correction? How New York City's Inflated Housing Market May have Blinded Many on Wall Street
By Barbara Denham, Chief Economist, Eastern Consolidated
Much has been written on the recent turmoil on Wall Street and how we arrived at this crisis in the first place. The complexities of the financial instruments aside, many believe that the heart of the problem lies in a deep sense of denial on how badly the housing market underlying these mortgage-back securities has fared. This denial, in fact, was discussed in an article written by Joe Nocera in the New York Times on September 15 in which he discussed how Lehman brothers "concluded that the problems would be short-lived — and that those firms willing to take big risks would be the ones that would reap the big rewards once things calmed down."
Not to excuse those on Wall Street who completely went against market logic by continuing to buy these securities when their values were in decline, but one is inclined to ask: could these traders and managers perhaps have been blinded by the buoyancy in the property market surrounding them? When a neighbor sells her Manhattan condo at the asking price on the first day it hits the market while a colleague submits a sealed bid to purchase his Larchmont home, could an analyst be forgiven for failing to fully grasp the magnitude of depressed property values elsewhere in the country?
Consider the statistics.
While the rest of the country saw single family home values decline by 15.9 percent (year-over-year as of July), according to the most recent Case-Shiller index, Manhattan watched median condo prices rise by 23 percent in the same period, according to Halstead Realty's second quarter market report. These prices were heavily weighted by new developments, but prices on re-sales of co-ops rose 22 percent over last year according to the same report. Westchester County saw median single family homes decline less than 4 percent, according to the Westchester Board of Realtors, but condominium prices in Westchester climbed 5 percent in the second quarter over last year.
The foreclosure statistics are similarly disparate. According to RealtyTrac nearly 740,000 homes nationwide received at least one foreclosure-related notice between April and June of this year, or 1 in 152 households as measured by Claritas. In the same period, only 234 Manhattan residents received a similar notice, or 1 in 3,285 households.
This contrast in housing prices is supported by the employment statistics. While the national economy lost 758,000 private sector jobs in the first eight months of 2008, New York City added 26,000 (net) private sector jobs, according to the Bureau of Labor Statistics and the New York State Department of Labor. To be sure, New York City has lost 10,600 securities jobs including those lost at the end of 2007, but outside of securities, government and manufacturing, nearly every other New York City industry has had net positive growth in 2008.
Those familiar with New York City economic trends may recognize this development for the paradox that it is. New York's recessions have historically started earlier, lasted longer and incurred disproportionately more job losses than national recessions. In good years, New York has rarely added jobs at a faster rate than the national economy, but in 2007 it did just that, growing by 2.2 percent vs. 1.1 percent nationally.
And in fact, it was the securities industry's largess to itself that likely perpetuated New York's housing bubble. In spite of the early mortgage write-offs incurred in August 2007 and NYSE and NASD member-firms' reporting profits of only $6 billion in 2007, down from $27 billion in 2006 according to SIFMA, finance and insurance firms paid out $97 billion in cumulative salaries in 2007, a 20 percent increase over 2006 payroll.
Again, while a sound local economy may have deluded those handling billions of dollars of mortgage-related securities into thinking a crash would not occur, it does not excuse them from completely miscalculating the underlying values of these financial instruments and then rewarding themselves for doing so.
And now it is abundantly clear that New York City's economy will see both significant job losses as well as a housing correction. While executives sort out the excess real estate and staff from the Bank of America-Merrill Lynch, J.P. Morgan Chase-WaMu and Citigroup-Wachovia mergers; A.I.G. bail-out and Barclays Capital's takeover of Lehman Brothers; the City could lose as many as 100,000 jobs in the next two years. Moreover, recent developments pertaining to the proposed $700-billion bail-out suggest that Wall Street salaries will decline substantially taking the wind out of the sails of the housing bubble.
When those working or having worked on Wall Street are forced to sell their homes for less than they paid for them, they may finally recognize the significance of this correction, but unfortunately, by then, it will already be too late.