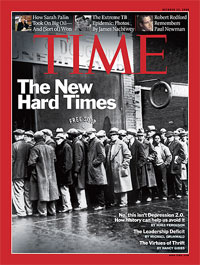 These are bleak economic times. Everyone who's not listening to John McCain and Sarah Palin talking about Bill Ayers and Jeremiah Wright knows that. But amid bank closings, job losses, and belt-tightening, there's one field that's experiencing a bump.
We're speaking, of course, of stock photography from the Great Depression. Photo agencies like Getty Images, Corbis, The Associated Press, and others seem to be doing just fine if recent press clippings are any indication.
Let's just hope this isn't a bubble.
The cover of Time this week features a striking Corbis photo of people on a food line in Chicago in 1931.
Not to be out-down, Newsweek has an article headlined The New Fixers, by Daniel Gross, which is illustrated with a Getty Images photo of J.P. Morgan Sr. and Jr. (A version of the story also ran on The Big Money and featured a public domain photo of the senior Mr. Morgan.)
On October 5th, The San Diego Union-Tribune juxtaposed an AP photo of stockbrokers from 1929 with their counterparts from today in a piece by Dean Calbreath.
Late last month, The Wall Street Journal's Real Eonomics blog featured a Getty Images photo of a Christmas breadline from 1931.
A few days later, on October 1st, The Times of London illustrated a story by Gerard Baker with a photo from 1929 of a "Panic outside the New York Stock Exchange on Black Thursday."
And on October 2nd, Canada's Canoe Money ran an Associated Press story by Adam Geller with an image of "A depression-era bread line in New York's Times Square" from 1930.
At least photo archivists can keep their jobs a little longer.