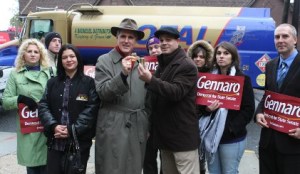 Michael Bloomberg is backing a 527 that will advertise against congressional candidates who don't support gun control.
The Bloomberg administration has begun its war on untaxed cigarettes.
A Harlem blogger notes that not everyone in his neighborhood believes Charlie Rangel really likes Obama.
David Paterson's budget update includes an estimation of massive rising expenses.
Sheldon Silver promised budget cuts using "uncharacterisically strong language."
Fortunately, Paterson's new aide has very little debt.
State Senate candidate Brian Foley is tying incumbent Caesar Trunzo to Wall Street.
Congressional candidate Dan Maffei broke the $2 million fund-raising mark.
Citizens Union endorsed Republican State Senator Frank Padavan for re-election, over his Democratic challenger.
Jonathan Cohn says John McCain told New York to drop dead.
Unlike most, Noam Scheiber is not convinced Obama will win.
Joe the Plumber endorsed McCain's policy for Israel.
Robert Draper reports that with Sarah Palin, "apparently it came down to whether to make Palin look like a scripted robot or an unscripted ignoramus."
Nicole Wallace, the McCain aide who recently said she's being thrown under a bus over the Palin debacle, tells Ana Marie Cox that this campaign might do her in.
Elizabeth Edwards doesn't like either health care plans.