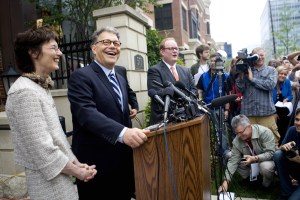 The Post reports David Paterson will fire top aide Charles O'Byrne.
The Times says it isn't clear whether O'Byrne leapt or was pushed.
The state teacher's pension fund lost $7 billion. The other state pension fund won't say how much it's lost.
Chuck Schumer is working like a donkey to get Democrats elected to the State Senate.
Community Board Six in Brooklyn voted nearly unanimously to approve the condo complex planned for the banks of the Gowanus Canal.
According to Eliot Brown, Dennis Kucinich "schooled" city officials who testified at a congressional hearing about Yankee Stadium
Michael Crowley reminds John McCain that the current tax system already redistributes wealth.
Jonathan Martin has some doubt that Sarah Palin's off-messageness is part of a plan to run in 2012.
This guy mapped the newspaper endorsements of the presidential race. [link fixed]
Republicans trickling from McCain to Obama (most recently McCain adviser Charles Fried) is starting to feel like the superdelegate drama at the end of the primary, writes Ben.
The woman who claimed she was attacked for supporting McCain admitted to making the whole thing up.