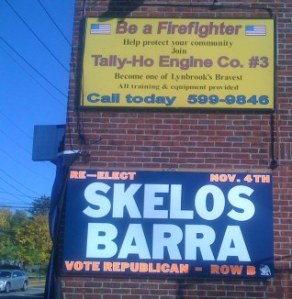 Stocks dropped today, which MarketWatch says is "evidence a painful recession is already under way."
Ben Bernanke warns that economic recovery is not near.
A Financial Times columnist applauds America's second bailout plan, but notes that it's "not so much a victory for multilateralism as a recognition that no nation could afford to go it alone in this global crisis."
Ben thinks the news today couldn't have been a worse prelude to the debate for John McCain.
McCain called Hillary Clinton for economic advice.
The Obama camp reportedly accidentally released a set of internal talking points, but there's nothing particularly new about them.
Sarah Palin's reaction to the Troopergate report was "madness," writes Steve Benen.
Russian energy officials went to Alaska, but Palin was unaware.
Hillary Clinton responded "coolly" when McCain called to ask her advice on the economy.
Liz heralds the arrival, finally, of a an ad for State Senate candidate Joe Mesi that includes footage of him in the boxing ring.
Jonathan Hicks talks to Councilman David Yassky about why he hasn't taken a position on the term-limits legislation.
Bouldin points out that Caesar Trunzo's State Senate district has been hit hard by foreclosures, but he voted against a foreclosure moratorium.
At Curbed, Robert wonders, "What the f*ck is going on at Atlantic Yards?"
Mitt Romney and his P.A.C. money are spending lots of time in New Jersey.
A writer in the Bronx praises The New York Times for defending the Community Reinvestment Act.