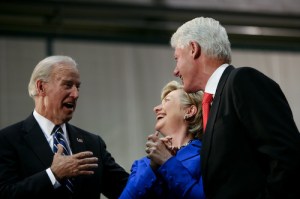 The stock market had a good day.
John McCain had a confused day, according to Marc Ambinder.
Chris Orr agrees.
McCain will reportedly have economic proposals to deliver tomorrow.
Barack Obama's new economic plan would require a 90-day freeze on foreclosures, as well as other measures.
Hillary Clinton comes up with "jobs baby jobs."
Having received a report that she abused her power as governor, Sarah Palin says she and McCain will end abuses of power.
"There was a time, however, when conservatives upheld adult standards—such as clarity of speech and thought—without apology, even in the face of the relentless downward pull of adolescent culture," writes Heather Mac Donald.
A documentary on the Hanoi Hilton is not supposed to be distributed until after the election.
Anthony Weiner wants everyone to go to the City Council hearing on term limits.
On Michael Bloomberg's third mayoral campaign, Bill Thompson said, "Dollar-wise, you can't compete."
Jessica Lappin still hasn't taken a position on changing term limits, even though her constituents want her to.
In the comments section, an anonymous reader thinks that it's Quinn, not Bloomberg, taking the lumps for wanting to change the term limits law.
Also in the comments section, Dan Jacoby lectures the media for going soft on Quinn, and asks what exactly is so unprecedented about the challenges facing the city.
An opponent of extending term-limits, Suzannah B. Troy, wants the Council to "unvote" their pay raise from a few years ago.
Two city cops–one retired–are accused of robbing and torturing drug dealers.
Andrea Stewart-Cousins finally responded to her opponent John Murtaugh on the Weather Underground bombing.
A Rochester blogger is encouraged by yard signs.
Kristen Gillibrand reminds: she does not support legalizing pot.
A Forest Hills blogger mostly approves of the rezoning plan.
And at first, Levy Johnston was nervous about being on the national stage, but then he was like, "Whatever."