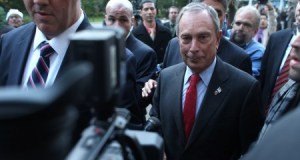 Bloggers are outraged that Michael Bloomberg got his term-limits extension today.
"Shame on You" writes one Brooklynite.
The Angry New Yorker is threatening to move away.
Both Bill Thompson and Anthony Weiner say they will still run for mayor, and also that the issue should go to court.
Jimmy Oddo, who voted against the legislation, would have like to use a few more "f-bombs" today.
Tom Golisano says the fight is off for now.
Comptrollers make a show of support for surprisingly embattled Democratic State Senator William Stachowki.
David Paterson wants some credit for the Aqueduct deal.
The U.F.T. released a statement in support of Paterson aide Charles O'Byrne.
State Senator Liz Krueger gave money in Golisano's district.
A McCain volunteer was violently attacked, in part because of the bumper sticker on her car.
Only the press pool will attend McCain's election night speech.
Sarah Palin is about to deliver her first policy speech.