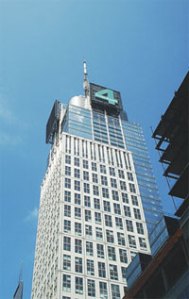 Condé Nast CEO Chuck Townsend informed a group of his publishers yesterday morning that if their magazines can avoid hiring someone, they should.
"If you have an open position on your team, they're going to make you stand on your head until you're blue in the face before you fill it," said one attendee at the meeting.
Mr. Townsend gathered publishers for a quarterly breakfast meeting on the fourth floor at 4 Times Square. It lasted from 7:30 a.m. to 9:30 a.m. Scrambled eggs, potatoes and fruit were served.
The language from Mr. Townsend wasn't entirely clear, but with more bad news released yesterday about ad revenues in the industry, Mr. Townsend and Si Newhouse have notified the publishers of each Condé Nast book to say that it's time to reevaluate things on both the editorial and business sides before swinging into 2009.
It's not quite a hiring freeze! It's a hiring chill of sorts.
"My interpretation of it is that it's not cast in stone or that the doors are locked," said the source. "But it's a request that however you're running your business now, you should continue to do that for the foreseeable future."