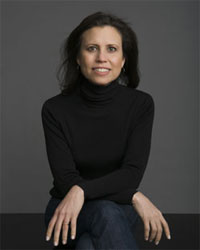 And bad news continues to leak out of 4 Times Square.
Media Mob has learned that Portfolio is cutting roughly 20 percent of its staff, and the monthly will now publish only 10 times a year.
Portfolio.com, the stand-alone Web site that has been unique for its original content and its large staff, will be severely scaled back; the Web site and whichever remaining staffers it has will merge with other Condé Nast Web properties. The ad sales work for the Web site will be done by Wired Digital.
Joanne Lipman will remain the editor in chief of the magazine.
David Carey, a group president at Condé Nast who oversees Portfolio, said that the 18-month-old magazine was launched "when we were expecting a much more robust ad climate."
The magazine had 680 ad pages this year.
"We're good with the number we had this year," he said."A few more pages would have been better, but we're not dissatisfied with the 680. In a normal climate 680 would go to 825 next year. And then go from 825 to 975. That's a normal growth rate. … But it's going to take us longer to get to that point with the market we see now."
In one way, of course, it's a major hit for the $100 million investment made by Si Newhouse. It's been a parlor game in media circles to discuss when the Portfolio bubble would burst; the cutbacks are the first definitive sign by management (which has been enthusiastically supportive) that they haven't been entirely pleased with the growth of the magazine.
The Web site, too, was something that Portfolio staffers were never shy about praising, especially in the larger context of Condé Nast, where most Web sites are companion sites and have little to no original content. Now Portfolio.com will begin to look a lot like those other sites.
But it is also, in some way, a vote of confidence from Si Newhouse that he didn't fold the magazine at a time when he certainly could have.