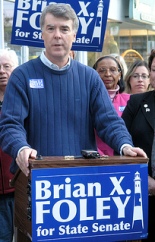 From intern Lydia DePillis:
Endorsements in the Long Island State Senate race between incumbent Republican Caesar Trunzo and his Democratic challenger, Brookhaven Supervisor Brian Foley, show a divide among the state's environmental groups about long-term goals and how to accomplish them.

The New York League of Conservation Voters is not only backing Foley, but putting resources behind the race–$175,000 of direct mail and a TV ad blitz in the days before the election. That's far more than the group is spending on any other candidate.

Meanwhile, a coalition of local environmental groups has come out for Trunzo. The Long Island Environmental Voters Forum is more locally focused (although it backed Barack Obama) and endorsed Trunzo because, it says, Trunzo has taken steps to protect open space, while Foley has been too friendly to developers.

Newsday endorsed Trunzo yesterday, but with a verdict that seems more practical than passionate: "In the end, it comes down to this: On balance, we think a GOP-controlled Senate will probably be better able to protect Long Island interests in this current fiscal crisis. So we endorse Trunzo."

The third district isn't the only one where the NYLCV and the LIEVF disagree. On the 2008 endorsement slate, the NYLCV only agreed with the Long Island coalition on six out of its 23 candidates for Congress, State Senate and State Assembly.