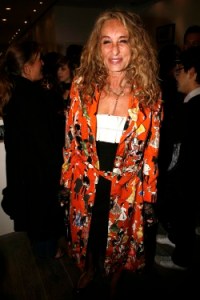 "From what I understand, New Yorkers aren't approving of a third term of [Mayor Michael] Bloomberg," said actress Susan Sarandon at the U.S. debut of the French clothing store Comptoir des Cotonniers in Soho on Thursday, Oct. 23. "I'll be interested to see who the opposition is because if they are mad at Bloomberg, they probably stand a very good chance of getting in."
Ms. Sarandon was accompanied by her 23-year-old daughter, actress Eva Amurri. The mother and daughter were invited to the store opening because the brand has focused on marketing to mother and daughter shoppers, often featuring real-life mothers and daughters in their ad campaigns. And so Ms. Sarandon, who admitted that she is not so much the fashion expert, agreed to show up for the opening. (A donation to Heroes, the charity supported by the actress, might have been involved as well.)
While Ms. Sarandon and her daughter, outfitted in clothing by the label, fielded the mandatory questions about their shared fashion tips–the mother revealed she has advised the daughter to wear sunblock–Ms. Sarandon, a West Village resident, had more to say about Mr. Bloomberg being cleared to run for a third term yesterday afternoon.
"I don't think he's a bad mayor, it's not like he's [Rudy] Giuliani or something, but I just think that it's a little tricky to just keep extending your term," said Ms. Sarandon. "We're already living in a country that feels like a regime without having these dynasties that keep coming into power. We'll see what happens. I don't think New Yorkers can be pushed around."
But socialite Ann Dexter-Jones, mother of the Ronson clan, took a contrarian view about yesterday's Council vote.
"I don't know much about financial politics but I think whenever a new elected person comes in, it takes a while for them to get settled, to get active, iron out a few things, and I think we're in such a crisis that why fix it if it isn't broken?" she said. "It's not like inviting somebody to a dinner party and you think it's their turn now. It's a job and it's a job that needs dedication. So I think people need to get their egos out of the way."
And designer Chris Benz, who is Ms. Amurri's neighbor in the West Village–the two often hang out on Mr. Benz's stoop–offered yet another view that the Daily Transom hadn't even considered.
"I'm just ready for disco to be back–like high-recession disco. Gloves. All of that," said Mr. Benz. So he's in favor of whoever will bring that era back. And in that case, Ms. Dexter-Jones, who was dressed in a bright orange Paul Smith coat and fingerless Chanel gloves, might be the logical choice.