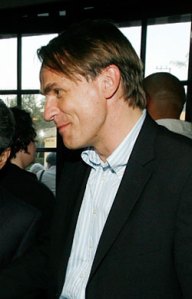 Michael Pietsch, Jamie Raab and Megan Tingley all dodged a bullet five years ago. For a moment there, it looked like their owners were going to sacrifice them, and the rest of the Time Warner Book Group, to Bertelsmann Inc., the German-based multimedia company that owns the largest publishing house in the world.
Mr. Pietsch, at least, could have expected to keep his job. Little, Brown & Co., the shop he'd been running for about two years, would have been a crown jewel for Bertelsmann, which is to say it was a big part of why the conglomerate wanted Time Warner's publishing properties in the first place. Mr. Pietsch's colleagues, though, were doomed. Random House, Bertelsmann's publishing empire in the United States, already had a major division dedicated to the sort of up-market commercial titles to which Ms. Raab was devoted at Warner Books, and Ms. Tingley's children's division would almost certainly have been swallowed up most unceremoniously by Random House Books for Young Readers.
This was 2003, and Peter Olson, who at the time was Random House's CEO, was acting like the merger was a done deal as early as that May, when he attended BookExpo in Los Angeles and spent his time there wandering around the Time Warner tent and remarking to a bewildered reporter from The New York Times just how excited he was to be buying yet another publishing house.
It didn't end up happening; for reasons that remain a mystery to most, Bertelsmann abruptly pulled out of the deal at the last minute. Time Warner ended up holding on to its book division for three more years, at which point it was happily sold for $500 million to Hachette Livre, a French publishing company that did not have any holdings in the American book business and would thus have no reason to upend anything or lay anyone off. Perhaps the most severe change affected by the sale was that Ms. Raab changed the name of her division to Grand Central Publishing.
"Oh my God," Ms. Tingley said the other day through a nervous laugh, when asked to imagine her life in the children's division if Bertelsmann had gone through with the acquisition. "It would have been devastating."
One book Little, Brown probably wouldn't have gotten to publish in that alternate universe is Stephenie Meyer's teen vampire novel Twilight, which Ms. Tingley acquired from an agent at Writers House over Thanksgiving weekend a few months after the Bertelsmann deal fell apart. The book, whose author was an unknown mother of three from Arizona, went on to sell 11 million copies; Catherine Hardwicke's film adaptation is due next month. To date, Little, Brown has published three sequels to Twilight, which according to Ms. Tingley combine for a total of 21.4 million books in print in the United States alone.
Stephenie Meyer is a big part of why Mr. Pietsch, Ms. Raab and Ms. Tingley can now say they work at a publishing house  whose dominance in New York few of their competitors could credibly question. Hachette Book Group, as their three shops are collectively known, is thriving. At the Frankfurt Book Fair last month, Ms. Raab said, "everyone kept saying, 'Oh, things are really bad, but I hear you guys are having a great year!' And it was nice to say, 'Yeah, we are!' Everyone else was singing the blues, there's no question about it." And while Ms. Meyer's vampire books may well be "leading the parade," as Mr. Pietsch put it in a phone interview, the house has generated an embarrassment of best sellers in the past year—including surprise hits like The Shack and Dewey: The Small-Town Library Cat Who Touched the World, as well as reliably lucrative franchise titles from Gossip Girl creator Cecily von Ziegesar, James Patterson, Nicholas Sparks, Nelson DeMille and Michael Connelly—despite being smaller than any of the major corporate-owned houses it competes with and publishing the fewest books.
That would be between 600 and 700 titles per year, if you're keeping score. Random House, which one rival publisher recently called "the biggest, fattest, most grotesquely obese company ever," last year published more than 3,000.
Of course, the vast majority of those books were signed under Mr. Olson, whom Bertelsmann replaced late last spring with a much younger, more German man named Markus Dohle.
MR. DOHLE, who at 40 years old has never worked in publishing before but had previously managed a large printing company, has not yet ordered any major changes since moving to New York from his home in Gütersloh and taking up the frayed reins Mr. Olson left behind. There have been some adjustments, to be sure. For one thing, Mr. Dohle has hired several new people at the corporate level, including a director of human resources who, like his boss, is very young and comes from Germany (one editor said, half seriously, that "there do seem to be a lot more people speaking German in the elevators"). For another, some division heads have asked their employees to cut back on expenses such as lunch and travel.
It has not all been tinkering, however: Mr. Dohle's presence has indeed been keenly felt. Just yesterday, it was announced that Random House's Doubleday division is eliminating 16 employees, including several prominent editors. The announcement stunned a publishing industry that had been waiting for such news ever since Mr. Dohle took over. While Doubleday spokesman David Drake said the cuts were the result of an internal evaluation and not a mandate from the top, it's clear enough that they were made with Mr. Dohle, who has spent the past few months actively evaluating his new company and engaging in what is politely referred to in the building as a "listening tour," very much in mind.
Are the Doubleday layoffs a sign of what's to come for the rest of Random House? Probably, though one source at the corporate level assured Pub Crawl that no further cuts are planned at this time.
Regardless, the Peter Olson era, during which the company's cadre of division heads—meaning the publishers at the top of Crown, Knopf, Doubleday, Bantam Dell, the children's division, and the flagship Random House group—enjoyed an astounding amount of free reign and independence from one another, is most certainly over. Mr. Dohle has said almost nothing on the subject of his intentions, however, so what lies ahead remains a mystery to practically everyone at 1745 Broadway but him.
"They're all freaked out over there," said one publisher from another house recently, citing conversations with friends in the building. "Have you ever been in a position when someone at that level comes in and says 'Why?' on everything you do? They've had no boss for a decade. It used to be that you'd go to Peter and say, 'I want 'x' number of dollars to re-sign one of my best-selling authors.' Now, Markus is saying, 'Why? How? Let me see the numbers. Let's have a meeting about it.' It's a whole different ball of wax. Psychologically, it's hard for them."