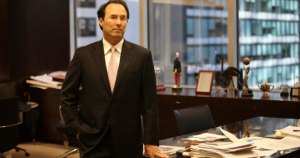 Gary Barnett and his Extell Development Co. are plowing forward with their plans for five new glass towers at the base of the Riverside South mega-development on the Upper West Side, and the company now says it plans to kick off early public review in December.
The plan, presented at an Upper West Side community meeting last night by Mr. Barnett himself, calls for four residential towers and one mixed-use tower totaling 3.1 million square feet on an eight-acre site between 59th and 61st streets along the West Side Highway.
Already, if last night's meeting is any guide, there are many unpleased Upper West Side residents. While the elected officials seem mostly concerned about density, the level of affordable housing and the inclusion of a school, many in attendance were a bit more eager to see the plan ditched entirely.
A sampling of the dissidents' denigrations: "The developer is putting lipstick on a pig;" the plan is "a crushing, greedy project;" residents were "aghast" when the plans were revealed; a woman declared, "I just don't see why we should be seeing any new units on the Upper West Side," at all; and one group said Extell should scale back their plans by 700,000 square feet, and they would still make between $2.2 billion and $3.8 billion in profit.
Mr. Barnett, the former diamond trader who rocketed into the top ranks of the city's development scene this (now) past boom cycle, sat slouched in a chair in the corner of the St. Jude Children's Hospital conference room as he watched each speaker give their two cents, staying mum after his opening remarks. Joining him was a healthy parade of consultants, including his two land-use lawyer teams (Kramer Levin AND Bryan Cave), two other lobbyists (George Arzt and Brenda Levin), and a set of architects.
Extell has been meeting from time to time with the community, and recently backed off its proposal to build a big box store, perhaps a Costco, at the site, after it became a bit of a controversy magnet.
Some details of Extell's Christian de Portzamparc-designed project, being called "Riverside Center" [Much more on the project here, a feature we did in September on the history and new plans]:
Five proposed glass towers including a 53-story residential tower on the northwest corner; a 42-story residential tower on the northeast corner; a 39-story mixed-use tower on the southeast corner; a 35-story residential tower on the south; and a 50-story tower on the southwest corner.
3.2 acres of open space on the 8.2-acre site
Office, retail and hotel totaling about 400,000 square feet, including a possible cinema
The street grid would be restored to part of the superblock, and 60th Street would run about halfway through from the east. It would continue along to the development's western edge, not as a street, but as a "scrim of water," lined by trees.
Everything to be built by 2018
Extell may want an auto showroom of 168,000 square feet
The displeasure on the part of some stems from the history surrounding the site, which is part of the larger 75-acre Riverside South development originally started by Donald Trump. Back in 1992, after a long battle, the site was rezoned with the consent of many of the local elected officials at the time, with a "restrictive declaration" that clearly spelled out a plan for all of Riverside South. At the parcel in question, Mr. Trump envisioned a 150-story world headquarters for NBC (these days NBC's aims are a bit more modest … they've considered taking a few floors in 7 World Trade Center or Worldwide Plaza).
With no market for them, Mr. Barnett doesn't want to build television studios, so instead he wants to change the restrictive declaration and build a residential complex. But while you're fiddling with one thing, why not change a whole bunch of stuff, right? Accordingly, Extell wants to boost the density by about 700,000 square feet and add parking. Notably, Rob Pirani, a planner at the Regional Plan Association, said the group was against changing the restrictive declaration, as was the Riverside South Planning Corporation, which brokered the final compromise plan in the Trump days.
The project is still in its very early stages of review. In December, Extell expects to start the "scoping," a seemingly inane step that allows lengthy public comment on what the draft environmental impact statement should contain. That clears the way for the project, some months later, to go through the city's seven-month approval process for a rezoning, which will be the last major hurdle.