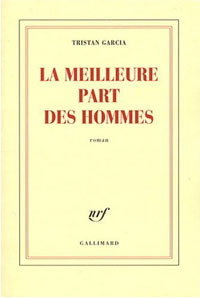 Mitzi Angel, the new publisher of Farrar, Straus and Giroux's Faber and Faber, Inc. imprint, seems to be barreling full speed ahead with her mandate to find and publish new and unknown fiction, having acquired the U.S. rights this week to a debut novel about sex, politics, and AIDS in the 1980s by a young first-time author from France named Tristan Garcia.
The book, entitled La Meilleure Part des Hommes ("The Best Part of Man"), is written from the perspective of a reporter for the left-wing newspaper Liberation. The story follows three of her friends: one a Jewish intellectual whose parents survived the Holocaust, the second a punk from the provinces, and the third a gay activist from Corsica.
Translating the book from the French for Ms. Angel will be none other than her colleague at FSG, Lorin Stein.
It won't be Mr. Stein's first time: in 2006, he discovered—with an assist from his then-girlfriend—a novel by French writer Grégoire Bouillier's which he brought back to the United States and translated into English as The Mystery Guest.
Ms. Angel first heard about La Meilleure from a friend at Faber UK, the distinguished British house that owned the imprint Ms. Angel now runs until FSG bought it from them in 1998, and asked Mr. Stein to find it for her while he was there on a recent visit.
Both he and Ms. Angel loved the book, which was recently published in France by Gallimard, and before long the deal was done and Mr. Stein had volunteered to translate it.
Mr. Stein, who was promoted to senior editor last year after three of the books he worked on last year were nominated for the National Book Award in fiction, said he understood the novel to be about "the end of the French Left… as told through the sex lives of four Parisians."
It was Mr. Garcia's style, Mr. Stein said, that attracted him to the prospect of translating the book.
"For a contemporary French novel one of the things that makes it interesting and fun and makes you itch to translate it is that it's written in a very colloquial but resourceful voice," he said. "It's normal for us to think that writing at its best is often making some kind of joke about spoken language or teasing us with its closeness to spoken language, and the French know all about that but it's not something you see often in their contemporary novels. There's a certain quiet we associate with contemporary French prose, what Barthes called 'zero-degree writing'. It's a reportorial detachment—a chill. That's certainly not true of Bouillier or Houellebecq but it is the norm."
Mr. Garcia is only the fourth author Ms. Angel has recruited for her list at Faber U.S.: The first was first-time Zimbabwean author Petina Gappah, the second was short story writer David Means, and the third was musician and novelist Nick Cave.