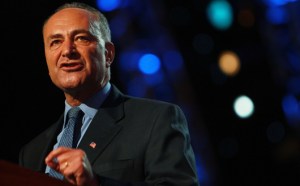 If you ask Chuck Schumer or Harry Reid, they'll give you a cautious answer about their party's prospects of attaining a filibuster-proof 60-seat majority in the Senate next Tuesday. It's possible and it would be great if it happened, they have said over and over, but it will by no means be a disappointment if we fall short of it.
But it will be.
Before the economic crisis took hold, several Republican incumbents who were perceived as vulnerable at the start of the 2008 cycle seemed to have dodged a bullet. Public outcry over Iraq, which had actually gained steam in the first few months after the 2006 elections, had dramatically subsided. Democrats still maintained a considerable built-in advantage, but it seemed plausible that Senate Republicans would emerge from '08 with minimal casualties – maybe just four seats.
Times have changed. Since mid-September, the trend has favored Democrats in races across the country, just as it has favored Barack Obama at the presidential level. Iraq isn't much of an issue this time around, but just like 2006 swing voters have seemingly been gripped with an urge to vote out Republicans up and down the ballot. The 60-seat mark is now tantalizingly within reach for Democrats.
Right now, the party has 51 seats, if you include independents Joe Lieberman and Bernie Sanders. The 52nd, 53rd, 54th, 55th and 56th seats should be easy to come by.
In Virginia, where Republican John Warner is retiring, former Democratic Governor Mark Warner is running about 30 points ahead of Republican Jim Gilmore; the outcome of this race has been a foregone conclusion since Warner, who left the governorship with an approval rating near 80 percent, entered it just over a year ago.
New Mexico, where Republican Pete Domenici is retiring, is also a shoo-in for the Democrats. Their candidate, Congressman Tom Udall, leads his G.O.P. colleague Steve Pearce by about 20 points.
New Hampshire and Colorado are closer than Virginia and Colorado but are both near-certain pick-ups for Democrats. In New Hampshire, former Governor Jeanne Shaheen is running nearly 10 points ahead of Senator John Sununu, who beat Shaheen in 2002. Shaheen has led in almost every poll since entering the race last year, but her numbers have ticked up further in the last month – along with every other high-profile Democratic candidate in New Hampshire. And in Colorado, national Republicans are now giving up on Bob Schaffer, who has fallen about 10 points behind Democratic Congressman Mark Udall in the race to succeed retiring Senator Wayne Allard.
And then there's Alaska, where Republican Senator Ted Stevens somehow managed to keep his re-election race against Democrat Mark Begich close this fall while standing trial in Washington on corruption charges. But Stevens' conviction on Monday will almost certainly ruin his campaign. Already John McCain and Sarah Palin, his sometime ally in Alaska, have called on him to resign. Stevens already had no margin for error; even if the fallout from his conviction is limited, it will almost certainly be too much to overcome.
With those five states, all near-slam dunks at this point, the Democrats would reach 56 seats, needing just four more to reach the magic number. And the next three – at least – might not be that hard to come by.
North Carolina, where Elizabeth Dole is seeking re-election, is a very ripe target for Democrats. The state has emerged as an unexpected presidential battleground and Dole, who won her seat in 2002 thanks largely to a late nationwide Republican tide, has never been an impressive campaigner. Her opponent, state Senator Kay Hagan, is largely unknown – but Hagan hasn't trailed in a poll since early this month. Given her anonymity, Hagan strength is a testament to the power of the Democratic label (and the weakness of the G.O.P. label) this year. Dole might still win, but Democrats are now expected to win this race.
The same can probably be said for the race in Oregon, where two-term Republican incumbent Gordon Smith has fallen behind state House Speaker Jeff Merkley. Like Hagan in North Carolina, Merkley entered the race an unknown – hardly the first (or second or third) choice of national party strategists to run. But he has now led every independent poll in Oregon since mid-September. The average margin in these polls is relatively close, so Smith could still prevail, but it's not likely he will.
Minnesota, where Al Franken is challenging Republican Norm Coleman, is closer. And, in fact, Franken appeared headed for a clear defeat as recently as six weeks ago. Perhaps no Democratic challenger in the country has benefited more from the shake-up effect of the economic crisis than Franken, who now enjoys small leads in most polls. Polling has been erratic and a third candidate, former appointed Senator Dean Barkley, looms as an x-factor. But Franken seems to have at least a 50 percent chance of engineering a victory that once seemed improbable.
With North Carolina, Oregon and Minnesota, Democrats would have 59 seats. Realistically, there are four states that could then potentially put them over the top.
Perhaps the most likely to do so would be Mississippi, where Roger Wicker, a congressman who was appointed earlier this year to replace Trent Lott in the Senate, is standing for election. His challenger, former Democratic Governor Ronnie Musgrove, has kept the race close all year, though Wicker has generally led in polls. Until recently, this seemed to be a two- or three-point race, but two recent polls have shown Wicker pulling ahead by double-digits. Wicker now seems likely to win, but the turnout of black voters, thanks to high interest in the presidential race, could produce an Election Day surprise for Musgrove.
Roughly the same dynamic is at work in Georgia, where Republican Saxby Chambliss has consistently led his Democratic challenger, Jim Martin – but the race has become close this fall; Saxby's lead has been within five points in the last six polls conducted. Obama, unexpectedly, also appears to be in striking distance in Georgia; a massive turnout effort and an influx of new voters could produce victories for both Obama and Martin. Martin could also force overtime by holding Chambliss under 50 percent, thereby triggering a run-off after Election Day. (History says this may not help him, though: After Bill Clinton won the presidency and the state of Georgia in 1992, the Republican Senate candidate, the late Paul Coverdell, waged a successful run-off campaign by asking voters to send him to Washington to chaperone the new president's honeymoon.)
There is also Kentucky, where Democrats would dearly love to secure their filibuster-proof majority at the expense of Mitch McConnell, the Senate's Republican leader. McConnell's race against Democrat Bruce Lunsford has been closer than expected, but he has consistently led by a margin in the mid-single digits. He is favored, but Lunsford is competitive.
A longer shot for Democrats is Maine, where Obama should win resoundingly. Susan Collins has never enjoyed the personal popularity of Olympia Snowe, her fellow Republican senator, but she has shown surprising resilience this year in a race against Democratic Congressman Tom Allen. Collins leads by about a dozen points in most polls and is a good bet to win next Tuesday, but her race is worth watching simply because of the state's overall partisan bent; high turnout and an Obama rout in the state could, at least theoretically, trickle down to the Senate race.
Between Mississippi, Georgia, Kentucky and Maine, the Democrats are not favored in any Senate races. But if the easier-to-win races break their way, then the party will only need one upset win in this final group of states to reach 60 seats. And if they could somehow win in two of them, they'd be able to jettison Joe Lieberman – who has noticeably toned down his attacks on Barack Obama since he was passed over as John McCain's running-mate and realized he'd probably have to co-exist with the Senate's Democrats next year – without endangering their filibuster-killing abilities.
The 60-seat mark was once seen as an exotic dream for Democrats. No, the possibility is very real.