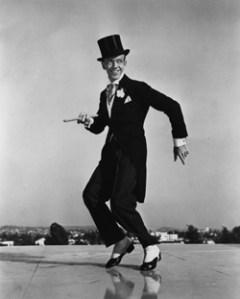 Fred Astaire
By Joseph Epstein
Yale University Press, 198 pages, $22
You know you're in trouble when the author of a book on a popular artist drags in lofty literary references to justify what he clearly regards as his own intellectual slumming. In this case, Joseph Epstein, the author of Snobbery (2002) and the former editor of The American Scholar, invokes Proust to compare Fred Astaire's habitual pursuit of Ginger Rogers to Swann's pursuit of Odette.
For the rest of this mediocre brief biography, Mr. Epstein sensibly cites Arlene Croce, John Mueller and Astaire's largely unhelpful autobiography. This restraint is a good idea, because when Mr. Epstein ventures away from fires lit by people more experienced in dance and show business and ventures out on his own, he tends to get lost in the dark woods of his own labyrinthine ego.
He spends a lot of time wrestling with the source of Astaire's undeniable charm, but charm is a function of personality, hence chemical. Far more important is the continuing ability of Astaire's art to enchant succeeding generations.
Take Astaire's most prominent counterpart, Gene Kelly, a younger man from a completely different dancing environment. Kelly always made sure to wear tight pants to show off his—admittedly very nice—ass, and was forever flashing his Irish grin at the audience. He wanted us to appreciate his dancing, sure, but he also wanted us to appreciate Gene Kelly.
There's none of that rapturous self-regard in Astaire; the idea of a great performer as self-effacing sounds oxymoronic, but I think Astaire might be the exceptional example. His usual expression when dancing was of focused absorption. He communicated a sense of himself as a vehicle—his own ego seemed to fall away as he worked and what was left was dance, dance itself, at its most transparent. Not the dancer at the dance, but the dance in the dancer.
JOSEPH EPSTEIN STRIKES ME as one of those intellectuals who's always slightly surprised when something great comes out of a broadly-based commercial art form like the movies; reading him on Astaire is like reading Alexander Woollcott on Charlie Chaplin. Mr. Epstein even uses the wretched term "flick" and comes to the ridiculous conclusion that Fred Astaire wasn't a genius.
If he wasn't, who was?
Mr. Epstein makes so many snarky cracks about the scripts for the Astaire/Rogers films that it becomes obvious that he doesn't really like musicals at all, because, as musicals go, those scripts are quite good, with an airy daffiness that meshes beautifully with the creamy Deco sets and the effervescent Berlin and Kern scores. (Only a churl could resist Eric Rhodes' hopeless gigolo in Top Hat and his attempt at a catchphrase: "Your wife is safe with Tonetti; he prefers spaghetti!")
Likewise, Mr. Epstein casts aside the choreography for The Band Wagon, even though it contains what is arguably the finest dance in the MGM musical canon, the duet between Astaire and Cyd Charissse to "Dancing in the Dark"—all, notes Mr. Epstein, "done by a man named Michael Kidd."
A man named Michael Kidd? The Michael Kidd who danced for Gene Kelly and Stanley Donen in It's Always Fair Weather? The Michael Kidd who choreographed the original productions of Finian's Rainbow, Guys and Dolls and Can-Can? The Michael Kidd who choreographed Seven Brides for Seven Brothers, as well as The Band Wagon?
That Michael Kidd was a distinguished artist with a gift for the rowdy as well as the restrained, and if in Mr. Epstein's mind Kidd's accomplishment doesn't compare, say, to editing The American Scholar, he still deserves better than to be condescended to by someone who habitually strains for some pretty terrible metaphors ("The Astaire/Rogers coupling was the white donkey upon which he and RKO could ride into Jerusalem").
THIS WOULD BE A negligible book except for one point that Mr. Epstein makes strongly, and, I think, correctly: Fred Astaire was a great singer—"less a singer's singer … but that greater thing, a composer's singer." Astaire didn't have a great voice, but he was able to utilize his musicality and extraordinary sense of rhythm, and combine it with respect for the words and the emotions behind them. In other words, he did the same thing for the songs he sang that he did for the dances he danced.
Mr. Epstein pays some attention to the recordings Astaire made for Verve, with Oscar Peterson and a small group, and they are indeed buoyant masterpieces. Appreciation for Astaire's singing is not a terribly original point, but it draws forth some of Mr. Epstein's best writing:
"If a comparison is needed, his voice perhaps resembles an urbane and more upper-class version of Hoagy Carmichael's. The voices of both men have something of the character of the nonprofessional, of the nonchalant, of someone just noodling at a piano keyboard, trying out a tune, slightly off-key sometimes, no big deal, then suddenly things pick up and the song sung becomes not merely charming but in their versions of it definitive: the right, the only way the song should be sung.… [Astaire's] clearly enunciated, strongly beat, often staccato rhythms were chiefly a dancer's rhythms."
This is very good, and almost gets Joseph Epstein off the hook for his overall priggishness. Almost.
Scott Eyman reviews books regularly for The Observer. He can be reached at books@observer.com.