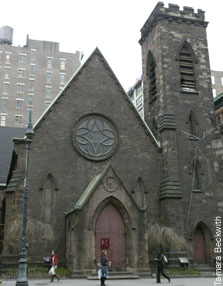 Originally a church, later an infamous nightclub, and more recently the site of a planned mini-mall, the gothic 12,000-square-foot building best known as the Limelight is again headed for an uncertain future.
Nightlife veteran Steve Lewis reports for BlackBook.com that a deal between landlord Ben Ashkenazy and the New York Artist Series has fallen through.
Perhaps not surprisingly, either, according to Mr. Lewis:
The rent of $2.4 million a year seemed high to me, considering the negative history of the place…
Artist Series organizer Joe Dirosa further dished about Mr. Ashkenazy's asking price for buying the beleaguered building:
I asked what it would cost to buy the building before our agreement and was told $40 million, which I thought was way too high. After all the press, I asked about buying the building again and he raised the price to $60 million.
Mr. Dirosa has since opted to lease a different space on Crosby Street.