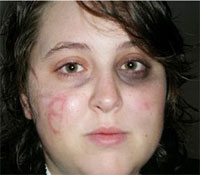 As you probably know by now, Ashley Todd, the Texas woman who claimed she was attacked in Pittsburgh and had a 'B' scratched in her face because of her support of Senator John McCain was lying.
There had been doubts expressed about her story from the moment it broke on the Drudge Report yesterday, including from conservative commentator Michelle Malkin, but the strongest statement came last night from Fox News' executive vice president, John Moody, who wrote on his FOX Forum blog:
If the incident turns out to be a hoax, Senator McCain's quest for the presidency is over, forever linked to race-baiting.
Senator John McCain and Governor Sarah Palin both called Ms. Todd, according to reports, and released the following statement yesterday:
This is a horrendous act of violence. Our thoughts and prayers are with the young woman for her to make a speedy recovery, and we hope that the person who perpetrated this crime is swiftly apprehended and brought to justice.
The Press Releases section of the official McCain-Palin campaign Web site does not yet include any updated statement about Ms. Todd.
(FOX Forum link comes via The Atlantic's Andrew Sullivan.)