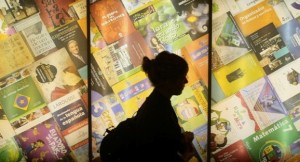 If you were to judge this year's Frankfurt Book Fair by the length of time it took to get an espresso on the convention hall floor, you might have come away with the impression that it was a packed event. But by most accounts, this year's incarnation of the industry's celebrated ritual, where translation rights are bought and sold like so many stocks, was a subdued affair. The annual convention–something like a summer camp reunion for the global publishing industry–saw upwards of 46,000 visitors shuffle through its 10 enormous halls, ferried from one frantic 30-minute appointment to the next by jammed shuttle buses and moving walkways along the skyways between buildings. To the untrained eye, the Frankfurt Book Fair was chaos, but veterans were underwhelmed. With the global financial market in collapse, caution was the predominant mood. Or as Andrew Franklin, Publisher of Profile Books noted, surveying the halls as they eerily emptied at 5 p.m., "It's like Baghdad after curfew."
With the exception of the largely ignored Guest of Honor (this year, Turkey, relegated to a tent full of regional kitsch in the central courtyard), and a couple of well-timed announcements of awards, the fair has always been more commerce than culture. (At a party for his client, the Dutch author Arnon Grunberg, Sterling Lord agent Ira Silverberg noted the rarity of actual writers at the fair. "You don't send a pig into the sausage factory," he joked.) As has been the trend in the past few years, no single title stole the show. Between the increased dealmaking over e-mail and the favored pre-Fair trips to London, most of the biggest titles get snapped up in the weeks before Frankfurt, efficiency overriding the currency of verbal buzz. Canongate publisher Jamie Byng may have come closest to the bygone thrill of a good auction, ratcheting up interest among foreign publishers for a novel by the creepily mustachioed Australian singer and erstwhile author Nick Cave.
Despite the relative quiet, the industry's outlook remained, all things considered, on the sunny side. Over at the Norton booth, editors were still palpably aflutter over their author Paul Krugman's recent Nobel. In Hall 8, the Fair's major hub and home to the Anglophone publishers, the sizable booths of the big five–Random House, Viking, Hachette, Simon & Schuster, and HarperCollins–had consistently high traffic. Oddly popular was the well-appointed Moleskine booth, where a small army of defenders had to stave off the book nerds in search of free wares (except that there weren't any, as The Observer learned the hard way). Less popular: the Scientology booth, bedecked in L. Ron Hubbard posters and eager to mistake anybody even vaguely within their orbit for a visitor. The hotels Frankfurter Hof and Hessischer Hof, twin sites of the Fair's after-hours scene, were as busy as ever–the dealmaking may have slowed, but the drinking showed no evidence of decline.
Still, in the face of mounting fiscal uncertainty, the international book market seemed to be collectively taking a wait-and-see approach. "People are aware of the financial situation and wonder what will happen, but it's not playing out in tangible ways yet," observed Laura Bonner of Endeavor, a Frankfurt first-timer representing the relatively new literary arm of the Hollywood mega-agency. "There are too many unknowns," said Jill Sansone, executive director of subsidiary rights for Hyperion. "Will people want to buy books in the coming years? We just can't be sure yet."
Some genres fared better than others in this atmosphere of heightened caution. Inspiration and humor titles, noted Ms. Sansone, were going strong over in the Hyperion booth. Sonny Mehta, editor in chief of Knopf, dapper in a checked blazer and his signature peppered goatee, professed enthusiasm about his imprint's fall list but was less cheery about the literature's prospects on the whole "Fiction can use all the help it can get, basically," he offered wryly.
This year, with its backdrop of economic calamity, the idea of building relationships with publishers and agents abroad became in many cases the primary goal. "There's a lot of enthusiasm about the community," Ms. Sansone noted. "We're really focused on meeting new, smaller publishers and on expanding our reach." Carolyn Reidy of S&S offered a similar outlook: "We're really looking to cement relationships, to focus on our shared authors and building future relationships. These things aren't dependent on the financial market."
As the financial crisis rewrites the rules of corporate Manhattan, publishing is hoping that the comparative stability of its offerings are, in this economy, an asset. "In times of trouble," said Reidy, "people turn to books. They tend to be recession-proof. They become a great escape."
The idea of books as escapism, as an easy way to transport oneself from the reality of troubled times, was a recurring theme. Will books really be to this new depression what Shirley Temple films were to downtrodden fantasists of the 1930s? It remains to be seen whether the received wisdom that books have historically been immune to recession will hold true this time around. The Internet age has not yet experienced this scale of collapse, and it is possible that readers will find their escape online, where the content happens to be free. Books' very length, on the other hand, may well be their best advantage, Ms. Reidy argued: "Their length creates a sense of investment–they have value as gifts."
Bob Miller, head of the upstart–dare we say maverick?–imprint HarperStudio, by contrast, tempered his optimism with a bit of pragmatism. "We don't know yet how the financial crisis will affect sales," he said. "Books tend to do well in recession, but they aren't butter and eggs, either. It will definitely put pressure on pricing." Mr. Miller's rogue business model, in which advances are capped at a maximum of $100,000 against a much-increased royalty rate of 50 percent, has yet to catch on in international markets, but has garnered much interest. HarperStudio's model, Mr. Miller ventured, is relatively well-equipped for the market slowdown. "It helps to have a lean overhead," he said.
"So much of this is psychological," Eric Chinski, FSG's contemplative chief, surmised, "but at the end of the day, books have more long-term value than movies, music, gadgets, homes." (The Observer can only hope this last enumeration was sarcastic.) "The sky has always been falling in book publishing," he continued. "I'm not saying there's not a crisis happening, but we have to be optimistic. Or at least realistic." There are only so many times, it would seem, that the industry can hear the sound of its own death knell and still worry.