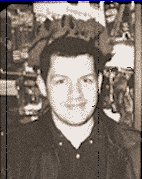 Regular readers The House Next Door's 'Mad Men Mondays' column found a surprising, sad announcement today from the site's founder, Matt Zoller Seitz:
Editor's note: This column is dedicated to the memory of House contributor, Time Out New York editor and regular Mad Men recapper Andrew Johnston, who passed away Sunday, Oct. 26 at age 40, following a long battle with cancer.
Mr. Johnston had been writing the weekly re-cap and analysis column since the first season of the critically-aclaimed AMC series and had a devoted following among readers who looked to his insights and erudition to make sense of Matthew Weiner's layered, novelistic show.
Several critics offered their condolences in the comments to Mr. Seitz's column, including Slant Magazine's Keith Uhlich (who also edits The House Next Door) who called this, "A terrible loss. Andrew was an invaluable contributor to the House and truly the kindest of men."
Premiere critic Glenn Kenny wrote, "Andrew was not just a piercing intellect and a first rate writer, he was an absolute mensch. He will be missed."
Esquire's Mike d'Angelo offered this extremely personal remembrance of Mr. Johnston:
… I owe an enormous debt to Andrew Johnston, who along with Ty Burr was largely responsible for launching my career as a professional film critic. Andrew 'discovered' me when I was arguing movies on Usenet a decade ago, assigned me freelance pieces at Time Out New York, and recommended me as his replacement there when he moved on to a more lucrative but ultimately frustrating (for him, given his passion for excellence) gig at Us Weekly. I'm proud to have followed in his footsteps, and dismayed to lose a terrific writer and a good friend. He will be terribly missed.
In 2003, Mr. Johnson was the named the head of The New York Film Critics Circle. (That year the group awarded the final Lord of the Rings movie top honors.) Time Out's blog has also posted a tribute written by friend and colleague Joshua Rothkopf.