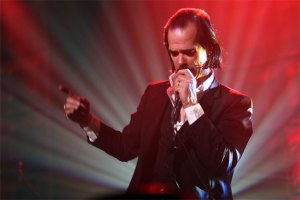 Mitzi Angel, the young editor whom Jonathan Galassi recruited to take over Farrar, Straus & Giroux's tiny Faber & Faber, Inc. imprint in April, closed late last week on her third acquisition since moving to New York and starting her new job. The book is The Death of Bunny Munro, a novel by musician Nick Cave, and Ms. Angel paid a sum in the six figures for the privilege of publishing it in the U.S. In an interview Friday with trade publication The Bookseller, the British publisher who sold Faber the American rights to the book, Jamie Byng, is quoted as saying that Ms. Angel considers the book the "centerpiece" of her first list, and that it would "define what Faber Inc. is."*
All of which would be completely standard post-acquisition cheerleading, except that it seems, at least at first blush, to square not so neatly with the fact that Mr. Galassi, the publisher of FSG, wanted her to steer the imprint away from the sort of pop culture, theater, and music books it has been known for and focus instead on publishing sophisticated literary fiction with an emphasis on debut novels.
Under the leadership of editor Denise Oswald—that is, before Ms. Angel came over—Faber, Inc. published things like the poetry of Smashing Pumpkins singer Billy Corgan and the journals of ex-Hole singer Courtney Love, and at that it was not unsuccessful. While Ms. Angel has said in interviews that she does not intend to completely abandon those types of projects, it is curious that—especially after acquiring a pair of books by first-time Zimbabwean author Petina Gappah and then signing up short story writer David Means, whose debut she published years ago in the U.K.—that she would hold up this Nick Cave book as an emblem of Faber's new direction.
*Oops! Initially this sentence attributed the quotes from The Bookseller to Ms. Angel, when in fact they were made by Jamie Byng, the British publisher who sold her the American rights to the Nick Cave book. Ms. Angel said Mr. Byng didn't have it quite right, but that Mr. Cave's novel does nevertheless fit right in with her publishing program. "It draws on some of the history of what Denise has done," she said, "but it brings it in a new direction as well, because it's fiction, and there hasn't been fiction on the Faber list before."