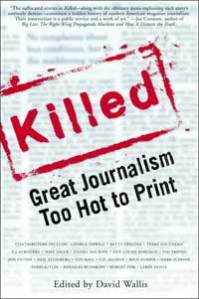 Nick Denton, out-going managing editor of Gawker, has just introduced a new feature to his Web site called The Unspiked Files.
According to Mr. Denton:
[M]agazine articles are often dropped not because they're bad but because they're good. Or—more often—simply because they've been overtaken by events or clash with some other article or because an insecure editor has over-commissioned… Anyway, here's an alternative for journalists who've spent weeks slaving on an article only to see it spiked: Gawker's unspiked files.
Writers are invited to send Gawker killed magazine pieces. Mr. Denton continues, "we won't be providing financial compensation (and you have already been paid a kill fee, after all) but we'll run your article in full and promote in links any book or other project."
Sounds like a good idea.
In 1998, Dave Eggers launched McSweeney's in part so that writers could submit "articles that were killed by other magazines or that could never have been pitched in the first place," according to Salon's James Poniewozik. That modest quarterly has since grown into a publishing house, another magazine, a DVD series, and a literacy foundation.
In 2004, David Wallis edited Killed: Great Journalism Too Hot to Print, an anthology of spiked stories by P.J. O'Rourke, Tad Friend, Mike Sager, Ann Louise Bardach, and others. Salon's Charles Taylor described the book as follows: "It's hard to imagine any working writer who won't be delighted by 'Killed.' The book is a testament to the cravenness and cowardice of editors." Three years later, that book spawned a sequel called Killed Cartoons.