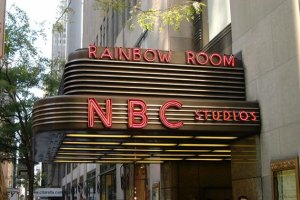 Earlier this week, we wrote about all the changes going on at WNBC. On Thursday afternoon, station general manager Tom O'Brien sent out an email to staffers, elaborating on the "evolution" of the station's newsroom into a so-called "content center."
The text of the email:
I wanted to thank you for your participation in Tuesday's Town Hall. I hope you felt it was a productive discussion and helped put in context the changes in the industry and at WNBC. It's clear that many of you are interested in more information about our soon to launch news and information channel, so I'd like to take this opportunity to give you a better sense of both our current and future plans.
Next Tuesday's launch of our new website,
nbcnewyork.com
, is a great illustration of where we see the channel ultimately going. Our new website strategy is to focus on localism and super-serving our community, providing the latest news, information and entertainment content for New York City and our surrounding area. We're looking at the same theme for our new 24/7 channel, which we're temporarily calling the "New York Channel." I want to be clear that this will be an evolution. You may have heard me say that you don't give birth to a college graduate, and the same thinking applies here. At the moment, our main focus is successfully launching our new content center, making sure our news organization is positioned to deliver the best local content possible to the myriad of media platforms available to consumers. The new workflow and technology in the content center will allow us to create the "NY Channel." In the beginning, we expect it will be more of an extension of what viewers currently see on our air, but over time, our plan is to morph the channel into a true lifestyle and news brand for New York. We'll take advantage of the news and information produced at our television station and website, the original content produced by
LX.TV
, as well as additional resources we'll continue to add over time.
I also want to clarify a possible misconception. It is not our intention, and never has been, to model our NY channel after others in the market. We believe that our consumers will ultimately be better served by a more lifestyle-oriented approach focusing on the latest news, entertainment and information that our dynamic city has to offer.
Many of you have seen the renderings and models for the new 7th floor newsroom, and in the next week we will post drawings/renderings for the WNBC Sales and Local Media Division's new space on the 6th floor. We expect to finish most of the 7th floor construction in the next 3 weeks. The exciting news for next week is that the set for our new 7th floor studio is scheduled to be moved in and installed starting Wednesday. I want to thank you for all your patience during the construction process and I hope you'll be as excited about the new work space as we are.
Thank you again for all of your hard work as we make these changes happen and add the NY Channel to our growing portfolio of cross-platform products. There's more news to come, and we'll continue to update you as plans become finalized.