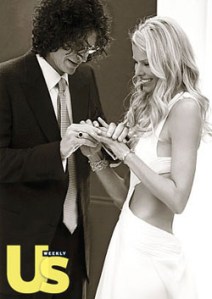 On Friday, Oct. 3, radio personality Howard Stern finally wed his girlfriend of eight years, Beth Ostrosky. By now we've heard all about the dress that Marchesa's Georgina Chapman designed for the bride, which Ms. Ostrosky bragged about both during Fashion Week and on the Tyra Banks Show last month. 
"I told her that Howard loves it when I dress sexy, I love girly, and then she's got her own style," she told the Daily Transom last month. "So I said just incorporate all of those three things!"
But the result is somewhat disappointing. 
Us Weekly has "first peek" photos of the wedding that took place at Le Cirque, and the dress… Oy. What can we say about that dress? Judging from the photograph, Ms. Ostrosky was put through some intense Photoshopping that has left her with a concave stomach and no breasts. Meanwhile, the dress–which, granted, we can only see from the side–is missing the back, and sides, and makes the bride's backside seem unflatteringly bulky. Also, while that kind of shape is perfectly okay for those one-piece bathing suits that disguise themselves as two-pieces, the style is not so appropriate for a wedding you've been awaiting for eight years!
This is not Ms. Ostrosky's fault. The bride probably explained as best she could what she was looking for to Ms. Chapman. But next time, the whole thing should probably be left entirely up to the designer, without the "sexy" demands from Mr. Stern.