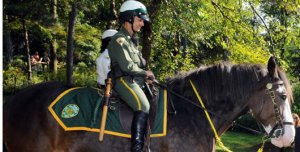 Civilian horse-lovers were not the only New Yorkers to mourn the departure of the more-than-100-year-old Claremont Stables from the Upper West Side in 2007. The longest continuously operating stables in the city, at 89th Street and Amsterdam Avenue, Claremont had also been home to a handful of the Parks Department's Mounted Patrol horses, which carried enforcement officers through Central Park, frightening would-be muggers and posing for pictures with tourists.
Following the stables' funereal closure that April, those horses, including a sweet-tempered chocolate-brown equine named Monty, were relocated to less glamorous environs in places like the Bronx and Staten Island. In order to walk their stomping grounds of yore, they have to endure an uncomfortable road trip in a trailer.
Come 2009, Parks Department horse housing will return to Central Park. On Oct. 3, the Central Park Conservancy, which administers the park on behalf of the Parks Department, filed plans with the Department of Buildings to erect a stable in Central Park, at the so-called Zoo Garage, the cobblestone parking lot shared by Central Park Zoo and Parks Department staff, near the Fifth Avenue and 64th Street entrance.
The $200,000-plus,747-square-foot stables will house as many as five horses by early 2009.
Parks spokeswoman Cristina DeLuca said that four or five horses will rotate through the stables, to give them "a change of scenery every now and then," and that Monty will be among the first guests, along with horses named Pete, Joc and Apollo.
"When Claremont Stables closed up, we lost the opportunity for public riding, and for Parks Enforcement Patrol horses," said Doug Blonsky, president of the Central Park Conservancy. "This gives us an opportunity to keep them in the park."
drubinstein@observer.com