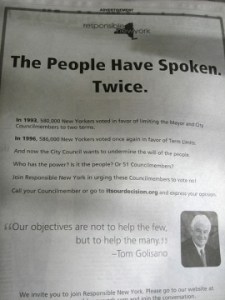 Rochester-based billionaire businessman Tom Golisano is spending "six figures" on newspaper ads in the Daily News, New York Post and several weekly newspapers to denounce Michael Bloomberg's plan to change the city's term-limits law and run for mayor again next year.
The campaign may include radio ads on local stations but is not likely to go to television in time for the City Council vote on October 23, according to a political strategist with direct knowledge of the plan.
The ads appeared today on page 23 of the New York Post, and page 30 of the New York Daily News.
The ad invokes the thousands of people who voted in the 1993 and 1996 referendums that gave New York City its current term-limits law.
"Who has the power? Is it the people? Or 51 council members?" the text asks. Below is a photograph of a smiling Golisano, and his favorite quote, "Our objectives are not to help the few, but to help the many."
The ad does not name any Council member specifically, nor does it  criticize the mayor personally.
Golisano arrives at the term-limits fight a bit late, with the ad appearing just one day before the Council's scheduled October 23 vote on the issue, although he's just the latest billionaire to raise his voice on the issue.
On September 30, Ron Lauder, the cosmetics heir who funded a campaign in support of the two successful term-limits referendums, announced in the New York Post that he would support extending those limits from two four-year terms to three, but only as a "one-time event."
But by October 3, that caveat was being dismissed. Council Speaker Christine Quinn said there was no provision in the proposed legislation that made the term-limit extension temporary, saying that under Lauder's plan, freshman lawmakers would be allowed to run twice while older members would be allowed three rurns.
On October 6, Lauder released a statement, saying, "The term-limits debate is growing more difficult and divisive by the day." He wrote that he saw "no benefit" in saying anything else until "I have had the opportunity to talk to Mayor Bloomberg personally."
Lauder got his wish. He and Bloomberg met at Gracie Mansion on October 8, after which the mayor announced that he was "proud to have his support" on this issue.
That same day, Golisano had his own meeting—for two hours in his hometown—with Councilman Bill de Blasio of Brooklyn, who opposed the change to term limits. On October 16, aides to Bloomberg and Golisano met privately in Manhattan to discuss the issue.
"It disgusts me," said Councilwoman Gale Brewer of the West Side, referring to Golisano and Lauder's role in shaping the term-limits debate. The two billionaires, she said, were "tainting this whole process."
Brewer, in a cab heading downtown to a meeting on 70th Street, added: "We should work it out among ourselves. Golisano—is that how you pronounce his name?—he doesn't even live here. And Lauder was never elected to anything."
Lew Fidler, a councilman from Brooklyn who supports the mayor's legislation, said Bloomberg mishandled the courting of Lauder, which, ultimately, may prove fatal.
"I'm not saying it's a mistake to talk to him. But to make it seem like 'OK, I made my arrangement with Ron Lauder, we can proceed now,' like we needed his approval—and this ad in the newspaper from millionaires telling us common folk what to think—wasn't helpful," said Fidler.
(He was referring to an ad in support of the Bloomberg proposal from a group that included former Secretary of State Henry Kissinger, JPMorgan Chase chief executive James Dimon and Goldman Sachs chairman and C.E.O. Lloyd Blankfein.)
"Spend a hundred million dollars, I don't care," said Councilman Robert Jackson of Manhattan, an outspoken supporter of extending term limits. Jackson has already weathered his own campaign blitz. On October 19, automated phone calls began lighting up thousands of phones in his district, telling people to call Jackson's office and oppose the bill.
("It wasn't that many," said Jackson. )
And any future ads, he said, won't change his mind. "Because my position is not based on the number of people who talk to me," he said. "It's based on principle. I've never been in favor of term limits."
Before Golisano's ads appeared, Bloomberg almost seemed to dare his fellow billionaire to get involved, telling reporters that an expensive public campaign against the extension would help the local economy. "The advertising business isn't all that good at the moment," Bloomberg said.
When asked about Bloomberg's remarks, Golisano told reporters, "I don't know if they're taking me seriously. It's a really serious issue."