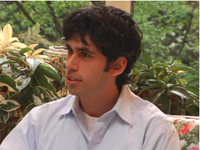 On the one hand, it was announced that The Traveler, the picture book he wrote with his brother for Farrar, Straus & Giroux will be published in collaboration with Starbucks. On the other, he is probably worrying at least a little bit about his old boss, who according to the Associated Press fell down two weeks ago and fractured his spine.
Mr. Vidal is fine, for the record, and told a reporter from his home in Los Angeles that he is barreling ahead with the novel he's writing about the Mexican-American war.
As for The Traveler, Mr. Simkin's book: According to a plot synopsis, it's a 48-page fable about a boy who travels around the world. William Morris literary agent Bill Clegg, who advises Starbucks Entertainment on which books to choose for its book club, said he helped broker the partnership with FSG, and called The Traveler "a charmer."
The Traveler is the second occasion FSG has had to deal with Starbucks; the first was when the club featured Ishmael Beah's memoir A Long Way Down last year.
Thanks to GalleyCat for pointing out Mr. Simkin's association with Mr. Vidal.