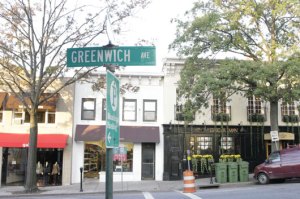 On a recent Friday afternoon, Terry Betteridge, owner of Betteridge Jewelers (est. 1897), was discussing the state of business on sun-drenched Greenwich Avenue in Greenwich, Conn., as the world at large continued to gasp and gawk at the loop-de-loops provided courtesy of the Dow and S&P.
"Our business was still up a month ago over the previous year, and the previous year was record stuff," said Mr. Betteridge. "It's the last couple of weeks when it got really quiet, because everyone is shell-shocked. It's a lot like it was on 9/11, when you'd think the door is locked."
Outside on the avenue—an almost mile-long stretch of luxury storefronts—distinct breeds of shoppers were in motion: young moms in yoga pants pushing double-wide strollers; squealing packs of teenage girls in tank tops; and dignified older women with immovable bobs striding purposefully into Saks Fifth Avenue or local high-end department store Richards. Lexus SUVs and Mercedes sedans purred up and down the street, directed by Greenwich's throwback traffic cops, who, in place of unsightly stoplights, make eye contact and personally invite pedestrians to cross the street. A Subway sandwich shop had the flat-screen tuned to CNBC, which was reporting that Lehman bonds had just been valued at 8.625 cents on the dollar
"We're just window-shopping," said Elizabeth Schenker, 27, a brunette in a blue sundress accompanied by her mother, Annie. The pair had just moved to Greenwich from nearby West Haven to be closer to the elder woman's job as a teacher, and was dumbfounded by the unrelenting glamour of "The Avenue," as it's known to locals. Annie described her first reaction: "Oh my God, this thing is enormous!"
"All these stores exist in Manhattan, and most are probably better in Manhattan," added Ms. Schenker (who commutes to the Upper East Side for her job as a social worker). Besides: "We're not millionaires!" Annie described a scene she'd witnessed the other day: "There were five or six girls who were about 12, all talk, talk, talk, all carrying Victoria's Secret bags. That's Greenwich Avenue!" But on this afternoon, despite respectable foot traffic, the polished sales floors in pricey new urban exports like Scoop, Lacoste, lululemon athletica and Michael Kors were quiet, their blond, made-up salesgirls compulsively straightening inventory or leaning on counters, bored. Of course, a slow afternoon in suburban retail isn't necessarily a harbinger of imminent dire straits. But one can't help feeling that the plunge on Wall Street will be felt as more than just a pinch in Greenwich; the local paper reported last week that the town "is facing a $4.2 million hole in its tightly-laced budget" and that residents were abandoning hard-won country club memberships.
Long dominated by mom-and-pop shops, Greenwich Avenue was colonized by chain stores in the '80s and '90s, according to Mary Ann Morrison, president of the local Chamber of Commerce. Early settlers were mostly of the mallish variety: Laura Ashley, Sam Goody, the Gap, Banana Republic and Woolworths, and the town's old-style WASPs slowly worked them into their rounds, while preferring when possible to stick with dowdier local shops which reflected their own distrust of anything showy or even particularly fashionable. The strident New Yorkification began five years ago, with the arrival of Soho staples such as Kate Spade, Coach and Kate's Paperie, and accelerated in the past two or three, with new outposts of Tory Burch, Ralph Lauren's Rugby, BCBG, Lucky Jeans, Zara, Design Within Reach, and a Frederic Fekkai salon.
The immediate future is equally gilded, precipitous stock market plunges be damned! A massive bi-level Ralph Lauren store is planned for fall 2009, an Apple store—crown jewel of any Manhattan shopping district—will spring up on the site of an old movie theater, and a Danny Meyer restaurant, Blue Smoke Chop House, will open late next year in a boutique hotel commandeering a defunct Howard Johnson's overlooking I-95.
"In the past 18 to 24 months, we've had more of the New York City marquee names out here looking than in years prior," said Thomas Torelli, a local broker who just helped negotiate leases on the avenue for Cole Haan and Madewell (J.Crew's upscale brand) in a subdivided space recently vacated by Banana Republic.
"The face of Greenwich has had a bit of a lift," said James Ritman of Newmark Knight Frank, another local broker. "The height of it was probably 2006, when most of the hedge funds were here, early 2007—that summer of 2007, Greenwich Avenue was as jammed as I think anyone's ever seen it, and stores were packed. The hedge fund guys weren't feeling it then."
It being the credit crisis, of course, which is still yet to affect most employees of Greenwich's most high-profile industry on the scale of fallen investment bankers such as Lehman chief Dick Fuld, who has a house here. But hedge funds took their biggest hit in 10 years last month; the asking price for Leona Helmsley's 80-acre estate in Greenwich's "back country" was recently cut from $125 million to a mere $95 million; and disgraced hedge funder Michael Lauer's 7,300-square-foot mansion was just unceremoniously auctioned off by the I.R.S. for $2.5 million, the minimum bid.
Retailers admitted that things have been quiet against this backdrop—kind of.
"We have noticed a slowdown there," said Stacey Bendet, designer and owner of Alice + Olivia, which opened in November 2007. "I think that the Greenwich community has become very hedge-fund-dominated, and I am not sure that whole group is really going on shopping sprees given the current catastrophic markets."
"We're not immune to what's going on around us; I don't think anyone is," said designer Tory Burch, who said her Greenwich store is still outperforming expectations. "Nolita is very driven by people from out of the country," she added, of her flagship on Elizabeth Street. "Most of the people who shop in Greenwich live out in Greenwich."