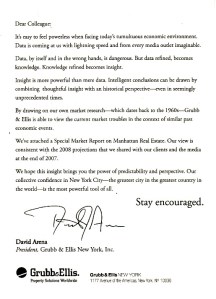 David Arena, president of Grubb & Ellis New York, sent out the above letter this week. It's attached to some rather optimistic market research that seeks to put the current office downturn in perspective.
Simply put, each of the four Manhattan office market declines in the last 48 years had a discernable ending, wherein rents increased and demand picked up. The market declines lasted an average of four years each, with the shortest (2000-2002) lasting two years and the longest (1987-1993) lasting six.
Writes Mr. Arena: "Data is coming at us with lightning speed and from every media outlet available. Data, by itself and in the wrong hands, is dangerous. But data refined, becomes knowledge."