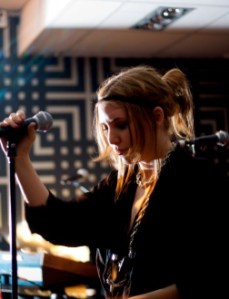 Lykke Li may seem like just another Scandinavian pop-star. But lumping the 22-year-old in with Annie, Robyn, or any other blond with a penchant for bubbly hooks would be doing her music an injustice. Her debut album, Youth Novels–released overseas in January and in August here in the States–recreates pop's familiar pleasures with few of its customary tools. There's Theremin, celesta, kazoo, harpsichord, buzzing synths, a stray trumpet, a few handclaps–all bent in service of Lykke's youthful tales of heartache and redemption. The record's lead-single, "Little Bit," is a stunning example of Lykke's thrift-store pop.
A couple days after her sold-out CMJ show at the Bowery Ballroom (her next performance in town is at Webster Hall on Feb. 2), we rang up Ms. Lykke Li Zachrisson to discuss what it was like working with producer Bjorn Yttling (of Peter Bjorn and John), that Vampire Weekend cover, and all those Bushwick cockroaches.
O2: I saw your show Tuesday night at the Bowery Ballroom…
Lykke Li: Ah, cool.
O2: You were fantastic. How did you think the show went?
LL: I was tired and we had some technical problems, but I think the show went good.
O2: I was impressed with the Vampire Weekend cover you snuck into the set. Had you guys played "Cape Cod Kwassa Kwassa" before?
LL: Yeah…
O2: Are you a big Vampire Weekend fan?
LL: Not really-I mean, I have their last album-but I think they have some good songs.
O2: Did that song have something to do with tailoring your performance to a New York audience?
LL: Uh, no. We've played that song for a while, like everywhere. I just think it's fun to do something contemporary. I played that song because I liked it.
O2: Your debut album [Youth Novels] came out in Europe way back in January, but Americans have just gotten in to you recently since the album didn't hit stores until August. Is it frustrating to have to get a whole new set of fans excited about your music?
LL: It's very tough. But at the same time, you have to think how blessed you are and that you have this chance. It's really, really tough on my psyche–mentally and physically. Yeah, it's tough. I won't say anything else than that. It's really, really tough. I get bored really fast…. When we [finished] the record, I was tired of it already. I was like, I want to do something new.
O2: Could you define your onstage persona? Is it markedly different from how you are day-to-day, or do you go onstage with the idea that you're just being your self?
LL: I'm myself because everything I do is me. But, of course, I'm exaggerating [as well]. I'm not my born self.
O2: Do you have any performers in mind as a source of inspiration when you go onstage?
LL:  Tina Turner.