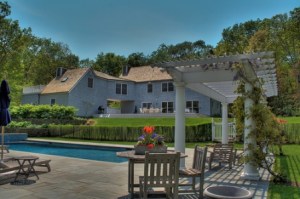 All is not well at the summer playground for America's rich and famous, as home prices and sales in eastern Long Island tumbled to two-year lows in the third quarter, according to a new Hamptons/North Fork market report from real estate appraisal shop Miller Samuel and brokerage giant Prudential Douglas Elliman.
The quarterly median sales price in the tony vacation enclaves dropped to $729,000, which is the lowest since the fourth quarter of 2006 and 17.3 percent below last year's median price of $882,000. Third-quarter sales fell from 427 last year to 355 this year, a 16.9 percent plunge, which brought East End market activity to its slowest quarterly pace since Miller Samuel began tracking the area in the second quarter of 2006.
The Hamptons, specifically, fared much worse than the North Fork–surprising considering how much more developed and well-established the southern branch of Long Island is compared to its northern half. The median home sales price in the Hamptons fell 19.4 since the third quarter of 2007, dropping from $1,030,000 last year to $830,000.
All of the important quarterly indicators point toward a major downturn in the Hamptons: Sales fell 28.8 percent from last year, dropping from 361 to 257; listing inventory jumped 9.8 percent, from 1,422 last year to 1,561 unsold homes on the market in the third quarter; and homes are taking longer to sell, spending an average of 175 days on the market, up 15.9 percent from last year.
Even the top tier, ultra-luxurious Hamptons market is slowing down. The median sales price for homes in the top fifth of the Hamptons market fell from $4,550,000 in the third quarter of 2007 to $3,499,000, an annual drop of 23.1 percent.
To recap: Nothing in the Hamptons is selling; there are more properties sitting on the market; what is selling is going for far less than last year; and it now takes longer to sell these cheaper properties.
All of which is to say, next summer should be a great season for renters.