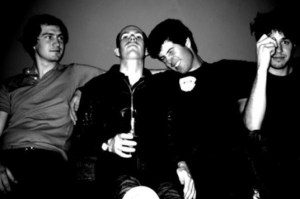 This time next week Lower Manhattan, Brooklyn and a decent section of midtown will be swarming with all manner of scraggly young men and women hoping to break a few strings, drink a couple beers and sign a couple record contracts. That's right, CMJ is coming to town. Beginning next Tuesday, Oct. 21, and over the following four days, the city's best venues and a few you've never heard of (Red Bull Space?) will host their own CMJ parties with scads of hungry young bands from across the country (well, mostly Brooklyn) playing long into the night.
Should you care to venture out into the madness, we've put together a handy best-of list for each night. Though by no means should you consider our suggestions exhaustive. (See CMJ's official schedule, which they just posted yesterday, for a full run-down of the festival's offerings.) We haven't heard of a bunch of these guys, either, though we're certainly curious about the two bands punning off Ringo Starr: Gringo Star and Ringo Deathstarr. You may have just as much luck blindly venue-hopping … that is if you can afford it without a CMJ all-access badge. Good luck!
Tuesday
The obvious highlight of CMJ's opening night is Swedish popstress Lykke Li—the young blonde who turned bloggers' heads long before the release of her excellent debut LP, Youth Novels, in August. She may bring to mind those other platinum Euro-stars, Robyn and Annie, but with the help of producer and fellow-Swede Bjorn Yttling (of Peter Bjorn and John), Lykke crafts a quirkier, more elusive pop sensibility with tunes like "Little Bit" and "Everybody but Me."
… Which is too bad, considering her show at the Bowery Ballroom is sold out. But if Craigslist isn't your thing, we have a suggestion—watch this. We're guessing you know the song, and we're guessing, too, that it's gotten stuck in your head on more than one occasion. Well, it's called "Bruises," and the band is called Chairlift. They're from Brooklyn, and they're playing the Annex Tuesday night.
Swervedriver were one of the great underrated British bands of the shoe-gaze generation, imploding in the later half of the '90s after only four albums. Since the band's brief reunion earlier this year, frontman Adam Franklin has been quietly collaborating with Interpol drummer Sam Fogarino. Their joint effort, Magnetic Morning (due out next Tuesday), retains Swevedriver's frosting-thick guitar sound, but adds another layer of gooey synths. The guys play Southpaw at 11:30 p.m.
Wednesday
Deerhoof is playing Filmore New York tonight, which is great, but if you're in the mood for something a little farther afield, check out the Pitchfork-approved Canadians known enigmatically as Women. While the early Kinks influence is unmistakable, so are these four guys' songwriting chops. Women play the Red Bull Space at 9 p.m., just before prog-rocky locals Takka Takka hit the stage.
New West Village hot spot, Le Poisson Rouge, founded at the site of the old Village Gate, plays host to a mammoth showcase for Car Park and Paw Tracks records. The festivities begin at 7 p.m., but the real highlight is Beach House's 12:30 a.m. performance. We know, it's late, but this Baltimore duo's narcotic organ dirges are the perfect sleeping bill.
Thursday
We already told you about Mission of Burma's insanely cheap—as in $5—show at the Music Hall of Williamsburg tonight with King Khan and Jay Reatard. It's not technically a CMJ event, but you should go … that is, if you can find tickets. The show is sold out. There's also Crystal Castles' CMJ gig over at Webster Hall, but that's sold out too. Bummer.
But there's good news over at the Bell House. Gowanus' fantastic new venue features New York's the Jealous Girlfriends and Sam Champion. Both will undoubtedly remind you of your mid-'90s record collection—the Girlfriends in the Mazzy Star kinda way, Sam Champion in the Built to Spill sorta way. But with the economy collapsing, we could all use some boom-time nostalgia.
And if you happen to find yourself in the Lower East Side or if you duck early out of Sam Champion's 11:15 set, head to Pianos to catch Brooklyn's Crystal Stilts at midnight. If the Walkmen could raise Ian Curtis from the dead and get the poor guy to sing a couple songs, they might create a tune as spooky and fun as "Shattered Shine."
Friday
If you brave the CMJ crowds for one show this year, let it be the Vivian Girls' headlining set at the Cake Shop. We can only say good things about the Vivs' reverb-soaked girl-group punk, and the kids will surely be sweatin' to the oldies down in the Cake Shop's cramped basement.
Speaking of kids, the Virgins scored a semi-hit with "Rich Kids" after the New Wave anthem made its way onto Gossip Girl late last year. The quartet's 1 a.m. set ends a long seven-band night—with performances by the Delta Spirit and locals Ambulance LTD—at the Mercury Lounge Friday night.
And we'd be remiss if we didn't mention Cheeseburger. Brooklyn needs at least one band of politically incorrect, cocaine-obsessed, scuzoids willing to bloody their fingers on a few AC/DC riffs. All in all, the perfect bunch to cap a late night at the Music Hall of Willliamsburg with Dungen and TK Webb and the Visions.
Saturday
The biggest draw on CMJ's closing night will surely be the shoe-gaze blowout at the Bowery Ballroom with a Place to Bury Strangers, Crystal Antlers, Marnie Stern and our beloved Vivian Girls. And really, you couldn't go wrong. But before you head downtown, stop over in Brooklyn and catch the Muslims at Public Assembly (the former Galapagos) at 9 p.m. No, these guys aren't from Brooklyn, they're from San Diego, but they kick out a mean, brittle-guitar racket reminiscent of early Stooges. Plus, they're called the Muslims. It might even be worth your while to stick around. These guys are one of 10 (!) bands performing hour-long sets at Public Assembly from four in the afternoon to four in the morning. But hey, it's a Saturday night. You can sleep in. …