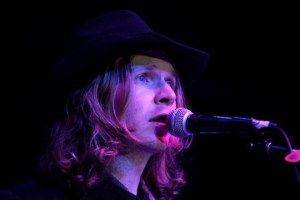 Brooklyn IT bands come and go like a mid-morning sugar high, leaving you jittery and confused. And so many of them fall back on the same record-collector talking points: My Bloody Valentine, the Shangri-Las, the Jesus and Mary Chain, Phil Spector, Nuggets garage rock. But not all of them do it as well as the Vivian Girls (yes, that's a reference to Henry Darger's 15,245-page novel, The Story of the Vivian Girls). Cassie Ramone, Kickball Katy and Ali Koehler—as they lovingly refer to themselves—pump out waves of delicious girl-group pop curdled with frantic guitars and mile-high reverb. Three-chord vamps like "Tell the World" and "Such a Joke" sound like they were recorded in an aluminum shack, the girls' deadpan harmonies bouncing endlessly off the walls.
The Vivs celebrate the release of their self-titled debut on L.A.'s In the Red Records this Saturday at Todd P's Silent Barn in Bushwick. Fantastic Brooklyn transplants and "shitgaze" provocateurs, Pink Reason, open up. [Tickets available at door only]
At the opposite end of the hype spectrum are Bavaria's Notwist—a band who over the course of 20 years have quietly transformed themselves from metal-heads into pop eccentrics, producing the kind of catchy gloom that wouldn't sound out of place on Radiohead's Amnesiac or Air's Talkie Walkie. After a six-year absence, Notwist has released The Devil, You + Me, as good as its beloved predecessor, 2002's Neon Golden, and further testament to one of Germany's best musical exports. The quartet plays Webster Hall on Monday. [On sale now]
If you watch Gossip Girl (and we know you do), then you know the Virgins. That's because a number of tunes from the New York band's self-titled debut ("Rich Girls," "Love Is Colder Than Death") were featured in recent episodes. Alexandra Patsavas, the show's music supervisor, couldn't have picked a better band to soundtrack our fair city's underage debauchery. With the Virgins' tales of "cocaine brunch[s]" and expensive girls, these guys nail the kind of good-time New Wave decadence we haven't heard since Duran Duran. Grab a cold drink and a warm body and head to the Bowery Ballroom on December 12. [Tickets went on sale yesterday at noon]
Beck's three-night extravaganza kicked off at Harlem's United Palace last night, but if you want tickets to tonight's show or Friday's, you'll have to head to Craigslist or talk to this guy.
And because we love dogs, even when they're forced to prance around in circles and have their privates fondled in front of thousands of people, we have to mention the 133rd(!) Annual Westminster Kennel Club Dog Show. The silliness (which Christopher Guest captured so well in Best in Show) goes down at Madison Square Garden on February 9 and 10. Tickets are a bit dear, yes, but can you really put a price on seeing a little fella like Uno, the winner of last year's Best in Show? We think not. [Tickets went on sale last week]