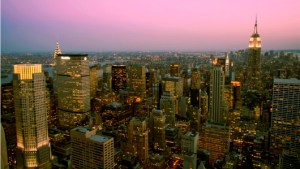 It is holy writ at this point that foreign money props up Manhattan's investment sales market. With $7.4 billion spent, foreign investors accounted for over 40 percent of all Manhattan building and property portfolio sales in the first nine months of 2008, according to numbers out today from Cushman & Wakefield covering deals of at least $10 million. That's a jump from the $5 billion during the same time in 2007.
But foreign economies, particularly in Europe, are starting to crumble. Iceland's just about bankrupt. Germany and Belgium have had to do their own bank bailouts. Spain's housing bubble burst this year. And has anybody else noticed that $1 now equals 1.35 euros, a pretty significant drop from 1.6 and change just six months ago?
These foreign troubles will chomp into the Manhattan market, although the damage may not be fully evident until the middle of 2009. And, even then, New York's reputaton among American locales may mitigate the damage. Here's Massey Knakal head Bob Knakal in his latest "A Conversation with the Chairman":
The thing we must keep in mind with foreign buyers is that there will always be economies that are expanding and much of the capital created in those economies will seek investments in stable areas. The biggest reason that New York has benefited from foreign capital is because of the political stability of the United States and New York is viewed as the financial capital of the U.S.
One cannot help but wonder, in an age of collapsing investment and commercial banks and ashen-faced Cabinet members, how long this view will hold.