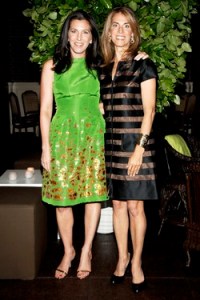 "I'm just a normal girl. I don't live in a log cabin, I wear leather shoes," said eco-socialite Sloan Barnett. "I'm just like you, but I try every day to do better!" Ms. Barnett, who is 40, was the guest of honor at a book party Wednesday evening hosted by President and CEO of NBC Universal Jeff Zucker and his wife Caryn at the Central Park Boathouse. Ms. Barnett's new book, Green Goes with Everything: Simple Steps to a Healthier Life and a Cleaner Planet, came out a couple weeks ago.
But is Ms. Barnett just a normal girl? In April 2007, the New York Times's Ruth la Ferla visited one of Ms. Barnett's "eco parties"—kind of like a Tupperware party, but with eco-friendly products—and discovered that the daughter of cable television and cellular phone billionaire George Lindemann was pushing green housecleaning onto fancy friends like Renée Rockefeller, Valesca Guerrand-Hermès, Melania Trump, Julia Koch and Jessica Seinfeld. (Incidentally, the products were made by a brand called Shaklee, which Ms. Barnett's husband, Roger Barnett, purchased in 2004.)
A couple of years ago, Ms. Barnett and her husband moved to San Francisco, where Ms. Barnett found a job at NBC as a contributor through Mr. Zucker. (She's also the "green editor" at an NBC affiliate in San Jose.) And while she no longer has the time for Styles section-worthy eco-parties, she's still educating her uptown friends about greener living.
"Some have made a few little steps and other have made drastic changes," said Ms. Barnett, who was wearing a dress the color of grass (eco-evocative!) with gold detail, of the friends she's helped convert. "I think a lot of my friends are keeping more open ears—you'll see a lot of them here tonight."
But does Ms. Barnett miss the New York City benefit circuit of which she and her husband were elite members before they had children and moved away?
"We don't have as many parties over there, but when we do we really enjoy them," she said of San Francisco. "I'm the type of person who makes the best of wherever she is, so when I moved there, I embraced it and I made new friends. I miss my girlfriends here and there is a lot of action in the city, but there are a lot of other things in San Francisco, like hiking in the woods, and the kids can play sports year-round."
Over in the corner, Mr. Zucker and his wife were holding court. Mr. Zucker was recovering from a knee surgery he had had just six hours earlier and was sitting down in an armchair, his crutches propped up beside him, as friends like Donald Trump and wife Melania came over to say hello.
"We miss them dearly, but we still get to see them occasionally and we always know when they come into town," said Mr. Zucker. (The Zuckers' kids went to school with the Barnetts' when the latter still resided in a five-story townhouse on the Upper East Side.)
"They're here quite often," chimed in Mrs. Zucker.
The Zuckers have apparently been long-time targets of Ms. Barnett's green efforts.
"She is always lecturing about products to me and what's going to harm our children," said Mrs. Zucker. "Everything from, like, the ring around the tub when the children take a bath to why the toys in the bathtub turn black. I used to spray down the table with Fantastik after the kids ate, but there is no way I would do that now."
We wondered if any of these household changes had been hard to make for Mr. Zucker.
"Nothing that Jeff would notice," Mrs. Zucker said.
Another one of Ms. Barnett's converts was Lisa Anastos, who has been best friends with the author since the two were at NYU Law. Ms. Anastos, who is currently busy planning the Whitney Gala on October 20, said Ms. Barnett is "brilliant" and that she plans to incorporate instructions from the book into her lifestyle. (Ms. Anastos proudly declared that she already uses a green car service whenever she goes anywhere.)
Roaming about the room was also the Today show host Al Roker.
"Hey, you're the salmon newspaper! You're the only newspaper in the city that matches my lunch. I like that," said Mr. Roker, who famously had gastric bypass surgery several years ago.
Mr. Roker said that his children police his eco-lifestyle.
"My nine-year-old is always saying, 'Daddy, you shouldn't leave the water running while you're brushing your teeth,' and 'Daddy, you shouldn't run the water when you shave,'" said Mr. Roker. "So you start being green just to shut your kids up!
"I tell you, if America wants to borrow my kids to nag them, America will be green in a month," he added.
Still, keeping up with the ever evolving eco-friendly lifestyle can be difficult at times.
"I now always leave a canvas bag on the front door, because I inevitably go out to go shopping and then forget it," he said. "I've got hundreds of these canvas bags–from Whole Foods and Stop & Shop and Duane Reade–but then you get to the store and you always forget it. So now I have a canvas bag with me whether I go shopping or not."
We inspected Mr. Roker head to toe, but didn't spot one of those Whole Foods totes.
"I don't have a bag here now because I had to hold an umbrella," he said sheepishly, pointing to the rain outside.