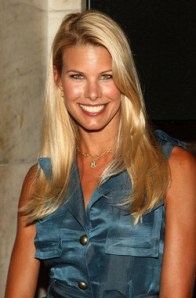 Tonight, radio personality Howard Stern will wed Beth Ostrosky, his girlfriend of eight years, at Le Cirque, which has been rented out in its entirety for a party of 180 guests. Donald and Melania Trump are expected to attend. And Mark Consuelos (Mr. Kelly Ripa) will perform the ceremony, according to Page Six.
Ms. Ostrosky was out and about at New York Fashion Week last month bragging about the Marchesa wedding gown that Georgina Chapman was designing for her.
"I told her that Howard loves it when I dress sexy, I love girly, and then she's got her own style," she told the Daily Transom last month. "So I said just incorporate all of those three things!"
The bride even went on the Tyra Banks Show on Sept. 16 for an episode caleld "Recessionista Fashion Tips"–we were at home sick, O.K.?–for which she modeled discounted wedding dresses. At the end of the show, Ms. Banks presented Ms. Ostrosky with hot pink pumps because (naturally!) it's the bride's favorite color. But instead of Louboutin, the sole of the shoe said Tyra Banks. To which Ms. Ostrosky made one of those "uh, gee, thanks" kind of faces as the audience clapped enthusiastically. Something tells us we won't see those shoes in pictures from the wedding.
For party favors, guests will walk away with mini bottles of … Purell.
"Howard is obsessed with being clean, so I'm going to have little Purell bottles at every table that has our names on it and the date of our wedding," Ms. Ostrosky revealed on the Tyra Banks Show Web site. "Howard can use it before he shakes everyone's hand!"
Sounds special.