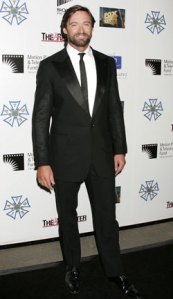 "What Market Meltdown? $33M Meier Triplex In Contract," blared a headline last Friday on the splendid blog Curbed. The $33 million listing for Sun Microsystems co-founder Bill Joy's glorious triplex at 176 Perry Street, with Sotheby's Ferrari-driving mega-broker Roger Erickson, had gone to contract! It seemed like a momentous sign that New York City's real estate wasn't tanking viciously.
Here's another reason for New Yorkers to celebrate, especially if they're into X-Men, and especially if they like action heroes who do a little musical theater on the side. Two sources told The Observer this week that it's Hugh Jackman who's in contract to buy the Richard Meier-designed 11,032-square-foot triplex.
According to floor plans, the living room, rec room and master bedroom are all 51 feet wide. There is a 54.5-foot-long "dining room/gallery"; a library; a music room; a pantry; a kitchen; a wet bar; and an upstairs exercise room around the corner from a sauna.
But here's reason to worry. The deal is for somewhere above $25 million, a startling fall from the $40 million Mr. Joy was first asking until a price cut this April. (Though the computer scientist, who reportedly paid just $17.57 million in 2002, will be fine either way.)
What's more, both sources said "it's possible" Mr. Jackman will walk away from the deal, which would mean giving up his multimillion-dollar deposit. "Definitely tenuous at the moment," one of those sources said.
"I don't think he's upset about anything," that source offered, when asked if anything was wrong with the triplex itself. "I think it might have something to do with the economic situation in the world." It would be hard to blame Mr. Jackman, who used to rent in the Meier towers for a reported $35,000 per month, for not making a massive deal right now. Then again, this would be a bizarrely gorgeous triplex to walk away from.
Reached this week, Mr. Erickson refused to comment.
mabelson@observer.com