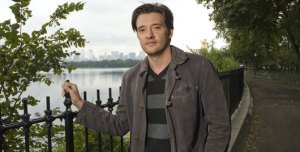 On Saturday, Oct. 4, the paparazzi were in full blitzkrieg blast outside the Ziegfeld Theatre for the premiere centerpiece of the New York Film Festival, Changeling. Director Clint Eastwood, tall and ever-elegant in a dark suit and blue-printed tie, posed with his film's star, Angelina Jolie—glam and sultry, and apparently back to pre-twins shape in a black Versace dress. Brad Pitt was beside her, and when they posed together the wall of photographers' flashbulbs lit up the sky. But further down the line it was a different story.
Jason Butler Harner, who plays the role of Gordon Stewart Northcott, infamous serial killer of the late 1920s in Los Angeles, was taking his first major red-carpet stroll. He had asked a good friend, actress Sarah Paulson (Studio 60 on the Sunset Strip), to accompany him, and noticed that the photographers appeared more interested in taking her picture than his (a quick perusal of Getty and WireImage shows he was right). A couple of tabloid reporters asked him who he was, and the others asked what he was doing in the movie. They all wanted to know what Angelina was really like. (Occasionally, they'd ask about what it was like working with Clint.) He was having a hard time coming up with new superlatives. He had a hard time answering anything, really, as he still hadn't actually seen the movie. Once inside, the ushers at the Ziegfeld didn't believe him when he said he was in the film, and once he convinced them he had to kick out seat crashers before settling in row X. But then Clint Eastwood got up to introduce the film and said that this cast—which features tons of stellar supporting actors including John Malkovich, Denis O'Hare, Amy Ryan and Michael Kelly—was comprised of some of the most talented actors working today. As Mr. Eastwood listed his talent, he included Mr. Harner's name. Ms. Paulson squeezed his arm. "That's you."
About 16 hours later, over mimosas and an organic omelet in his Upper West Side neighborhood, the lanky, hazel-eyed 6-foot-2 Mr. Harner, who turns 38 this week, was still shaking his head in disbelief. He was out celebrating till 4:30 a.m., came home and watched the first half of Saturday Night Live, and woke up wondering if the previous 48 hours had actually happened. His jaw ached from nervous clenching in the darkened movie theater. Mr. Harner is a 15-year theater veteran, starring on and off Broadway—among his credits are Tom Stoppard's The Coast of Utopia, Hedda Gabler (for which he won an Obie award), The Glass Menagerie at the Kennedy Center, The Paris Letter, and The Cherry Orchard opposite Annette Bening and Alfred Molina—but Changeling is Mr. Harner's first major film role, and could possibly be a life-changing one. Since the film premiered at the Cannes Film Festival in May, he has been living in a state of anxiety, setting his Google alert for reviews and then turning it off it because it was getting to be just too much.
"I read some mean stuff about myself on some blog," Mr. Harner said. "Having not seen the film, I didn't have my own opinion. It sort of got to my biggest fears: like, oh, fuck. I'm about to be publicly humiliated. And then you sort of have to deal with the fact that maybe you were really bad in this film." It turns out that Mr. Harner had nothing to worry about. His portrayal of Northcott is a complicated, unnerving and electrifying performance. In Changeling he is skittish, moon-faced and empty-eyed, alternating between little-boy-pathetic and terrifying; he's able to throw the audience off balance. Toward the end of the film, in one of its most intense scenes, he faces off with Angelina Jolie and the two spark off of each other in a pas de deux of crazy emotional unleashing. After the premiere, he had to deal with people (maybe) pretending to be scared to shake his hand.
Following the press and industry screening the Thursday before the premiere, Clint Eastwood answered a handful of questions at a press conference. One of them was about where and how he had found Mr. Harner. Mr. Eastwood described seeing a tape of Mr. Harner sent in from New York, and of his reading being so spectacular he basically called off the search then and there.
"Clint said that?" Mr. Harner asked. He smiled delightedly, friendly and down-to-earth, with the perfect diction of someone who has spent a good chunk of time onstage. He remembered the audition for casting director Ellen Chenoweth. "I prepared for it, but to be really honest, you fight so hard to even have these auditions, and as much as you want to hit it out of the park … Well, I won't say I'm cynical. I'd say I'm pragmatic. You see these juicy roles, and 9 times out of 10, they'll go to a much more established actor. It's the nature of the business. It was such an amazing part. So I decided I'd use my 15 minutes to show what I would do with it." A couple of months later, he was walking through Soho when he got the call. He was also told that Amy Ryan, one of his best friends, had been cast, and when he called her, he remembers her telling him, "Just stop for a moment and take it in. You just got cast in a Clint Eastwood movie."
IT WAS A LONG road to here. Mr. Harner grew up in Elmira, N.Y., before relocating to Alexandria, Va. His parents split up when he was 6, after his mother left her marriage to marry his stepfather (who passed away in 2001). Mr. Harner lived with his father (who also remarried, divorced, and eventually came out of the closet) till he was in the sixth grade, before moving back in with his mother. "I have been very lucky with both my parents," Mr. Harner is careful to say. "But I was a sensitive kid. A funny kid, and a perceptive one. There was a lot of time spent alone." Or, being tortured by an older brother and three older stepbrothers: "I have been hung off a 24-story building by my ankles, I had my toothbrush shoved up their ass and then I had to brush my teeth with it. I was put in a dryer. I was peed on. I was left out in the rain. I can't begin to tell you about how many noogies, wedgies, and why-are-you-hitting-yourself's I went through.