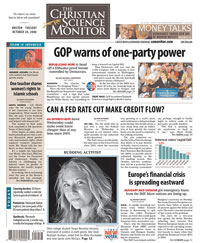 The New York Times' Stehanie Clifford and PoynterOnline's Rick Edmonds are reporting that The Christian Science Monitor will be abandoning its print component starting April 1st, 2009 to focus all of its resources to the nonprofit paper's Web site.
Ms. Clifford quotes CSM editor John Yemma as saying, "We have the luxury — the opportunity — of making a leap that most newspapers will have to make in the next five years." The paper will also be creating a Sunday magazine.
Also weighing in is Editor & Publisher's Joe Strupp, who estimates that CSM stands to save $4 million a year by going paperless. Mr. Strupp does however quote Mr. Yemma saying, "we are probably going to have to do some modest downsizing, some modest cost-cutting."