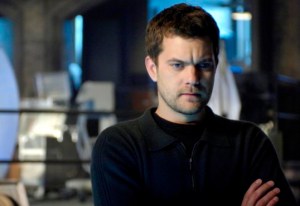 Good news for fans of absurd science fiction! Fox has picked up J.J. Abrams' Fringe for a full season order. After an iffy pilot and slack ratings, Fringe has become a moderate hit since being paired with House on Tuesday nights. Its audience has grown and stabilized, two good signs for a network show, and now Fringe sits on an average of roughly ten million viewers per week.
We've been watching Fringe, mostly because we're constantly impressed with how it seems to get more and more ridiculous with each  episode. In the one that aired this past Tuesday, a bad guy was running around and killing people with a ray gun and yet there were so many other ludicrous things going on (mindreading, torture with nose probes, etc) that no one even mentioned that, um, there was a dude running around with a ray gun!
At this point, we still aren't sure if we really like Fringe. Half the time the it doesn't make any sense. Fringe makes LOST–with it's crazy time travel and island moving–seem like a documentary. But it is pretty darn entertaining. And we're thrilled that Josh Jackson is in a hit series. It'll just make it easier for us to get him to star in our fantasy pilot about three guys living in New York City with Matthew Perry and Ryan Eggold, better known as that dude who plays the teacher on the new 90210.