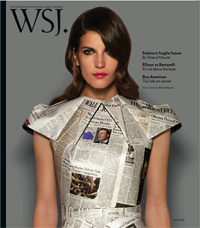 The Wall Street Journal's Christina Binkley asked yesterday: Is Bling Over? Are the super rich—the ones who own yachts, and lots and lots of houses—about to start scaling back?
Maybe! Some are actually losing a ton of money, so it makes sense to do something like, shudder, sell the yacht. And the ones who aren't affected by the crash don't want to embarrass their friends and start buying a lot more stuff. "It's not necessarily a good thing to show up at the tennis club with a new $30,000 crocodile handbag when your friends' net worth has been halved and the Federal Reserve is spending billions to keep the banking system afloat," Ms. Binkley writes.
But if the luxury market is going to take a hit, then what happens to WSJ., a magazine that was built precisely for this market?
And what happens to all the other luxury magazines out there?