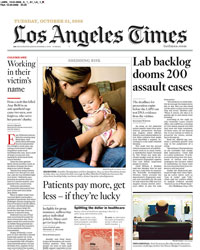 As warned, The Los Angeles Times has completed its redesign.
And it is much less splashy than The Chicago Tribune's was.
It's a point that Lee Abrams, the chief innovation director for Tribune, mentioned in a memo to his staffers. "It will be quite a bit less dramatic than our other newspapers, but has some wonderful new elements."
One change included: removing "staff writer" next to a byline and replaced with "Joe Smith / Reporting from London." Today's front-page has a "Reporting from South Africa" tagline on Page 1, clearly a tactical move by Russ Stanton, the paper's editor, demonstrating that, yes, the paper's staff may have been cut in half over the last seven years, but it still has reporters abroad.
In any event, in his memo, Mr. Abrams made it a point to say that he's noticed a trend among staffers when it comes to redesign, a trend that may well describe not only a Los Angeles Times editorial staffer, but every editorial staffer in the world:
Like all of our papers, the pattern is FEAR OF CHANGE…then ACCEPTANCE OF CHANGE…then EXCITEMENT AND CONTRIBUTION TO CHANGE. They may be in the Fear /Acceptance zone. Totally natural. Just wait til the excitement stage happens.