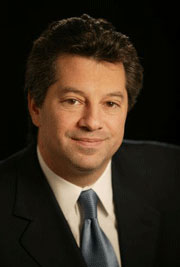 In an apparent bid to restore investor confidence, Gramercy Capital Corp. has appointed Roger Cozzi its new CEO. Mr. Cozzi will replace Marc Holliday, CEO of SL Green, Gramercy's biggest investor.
Mr. Holliday has headed up Gramercy, a real estate finance and investment company, since its inception in 2004. The firm has taken a beating in recent months. A recent Wall Street Journal article reported that, "the real-estate investment trust has seen its access to capital curtailed by the credit crunch. It also is suffering from a scarcity of property transactions and rising defaults."
The Journal went so far as to conclude that the firm's survival is in doubt. Since January, the firm's stock price has dropped nearly 97 percent.
The full release is below:
Roger Cozzi Named CEO of Gramercy Capital Corp.
Company Also Amends Management Agreement to Reduce Operating Costs
New York, NY, October 28, 2008 – Gramercy Capital Corp. (NYSE:GKK) today announced the appointment of Roger M. Cozzi, as President and Chief Executive Officer, effective immediately. Marc Holliday is stepping down from his position as Gramercy's President and Chief Executive Officer, a post he has held since Gramercy's inception in 2004.
In conjunction with today's announcement, Gramercy's Chief Investment Officer, Andrew Mathias, and its Chief Credit Officer, Gregory F. Hughes, are stepping down from their positions at the Company, effective immediately. Mr. Holliday and Mr. Mathias will remain as consultants to Gramercy through September 30, 2009.
Mr. Cozzi brings to Gramercy a wealth of relevant experience and a successful track record in the real estate finance sector. After three years at Goldman Sachs and three years as an investment officer for Starwood Mezzanine Investors and Starwood Opportunity Fund IV, he served from 1998 to 2007 in progressively senior roles at iStar Financial Inc., a publicly traded real estate investment trust focused on the financing of commercial real estate. He was named Chief Investment Officer of that firm in 2006. While at iStar Financial, Mr. Cozzi was responsible for the origination of structured financing transactions and he successfully closed over $3 billion of first mortgage, mezzanine and corporate finance investments. In early 2007 he joined Fortress Investment Group, LLC, where he was Managing Director.
Mr. Cozzi holds a BS in Economics from The Wharton School of the University of Pennsylvania.
The modification of agreements between Gramercy and SL Green comes four years after SL Green launched Gramercy from its own existing structured finance platform. At the time, Gramercy entered into a management agreement and certain other related agreements with SL Green and its affiliates. The modifications of the agreements were unanimously approved by special committees of the Boards of Directors of SL Green and Gramercy, each of which was comprised solely of independent directors.
The material modifications to the agreements include:
Reduction of the base management fee from 1.75% to 1.50%, effective October 1, 2008. In addition, GKK Manager LLC will remit all CDO collateral management fees to Gramercy in respect of the third quarter and all future quarters;
Termination of the asset servicing agreement effective October 1, 2008. As a result of the termination, Gramercy will no longer pay asset servicing fees or special servicing fees;
Termination of the outsource agreement effective October 1, 2008. As a result of the termination, GKK will no longer pay outsource fees;
Elimination of distributions by GKK Capital LP on account of the incentive return due to holders of the Class B limited partnership interests for the third and fourth quarters of 2008; and
A reduction in the termination fee due from Gramercy to SL Green in the event Gramercy elects not to renew the management agreement, which agreement currently runs through December 31, 2009.
Mr. Holliday commented, "In four years, Gramercy has grown from a boutique specialty lender to a more than $7 billion integrated commercial real estate finance and property investment firm. We are extremely pleased we've been able to attract Roger Cozzi, one of the sector's brightest young executives, to take over and lead the Company forward. The Board is confident that Roger is the right person to tackle the significant challenges that the industry faces in the current economic climate."
About Gramercy Capital Corp
Gramercy Capital Corp. is an integrated commercial real estate finance and property investment company operating in two complementary areas: Gramercy Finance, which focuses on the direct origination and acquisition of whole loans, subordinate interests in whole loans, mezzanine loans, preferred equity, CMBS and other real estate securities; and Gramercy Realty, which focuses on the acquisition and management of commercial properties net leased primarily to regulated financial institutions and affiliated users throughout the United States. Gramercy is externally-managed by GKK Manager LLC, which is a majority-owned subsidiary of SL Green Realty Corp. (NYSE: SLG). Gramercy is headquartered in New York City, and has regional investment and portfolio management offices in Los Angeles, California, Jenkintown, Pennsylvania, and Charlotte, North Carolina.
About SL Green Realty Corp.
SL Green Realty Corp. is a self-administered and self-managed real estate investment trust, or REIT, that predominantly acquires, owns, repositions and manages Manhattan office properties. The Company is the only publicly held REIT that specializes in this niche. As of September 30, 2008, the Company owned 30 New York City office properties totaling approximately 23,719,200 square feet, making it New York's largest office landlord. In addition, at September 30, 2008, SL Green held investment interests in, among other things, eight retail properties encompassing approximately 400,212 square feet, two development properties encompassing approximately 363,000 square feet and two land interests, along with ownership interests in 36 suburban assets totaling 7,867,500 square feet in Brooklyn, Queens, Long Island, Westchester County, Connecticut and New Jersey.